New hotset data logger simplifies energy analysis of water circuits
When hotset introduced its mobile D-System for instant analysis of thermohydraulic events in technical water circuits in 2019, it initially caught the attention of injection molders. In the meantime, however, process engineers from other industries have also shown keen interest in the flexibly deployable in-situ measuring instrument. The German company is now presenting the next generation of the data logger: network-compatible, with a color 7-inch touch screen and designed for battery operation.  
With its mobile D-System, hotset offers an extremely flexible and easy-to-use measuring device for in-situ analysis of the energy balance of process water cycles. Wherever water is circulating as a functional medium, it enables the rapid checking and visualization of flow rate, temperature curve and pressure differences. The D-System can be used for troubleshooting, fine-tuning fluid technology processes, or monitoring as part of quality assurance – to name just a few examples. "Water is used in industry as a coolant and heating medium, as a transport and hydraulic fluid, as an operating and drive medium, and even as a fuel component. As an instrument for process optimization or a mobile service tool, our D-System can therefore provide valuable services in many industries," says hotset project manager René Schlöter.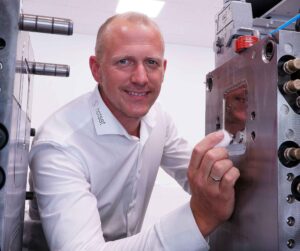 When hotset introduced the D-System to the market about two years ago, it was initially aimed at moldmakers in injection molding technology. The reason: The energy balance of the water circuits is an important quality factor for the temperature control systems of the molds. The more injection molders and moldmakers know about this, the more precisely they can design the temperature control system. This is precisely where the D-System comes in, by providing users with the measurement data they need to evaluate the energy flows of their water circuits. René Schlöter explains, "The sensors of our data logger determine the flowing water volume, the supply and return temperature ∆T, and the supply and return pressure ∆P. From this, all relevant parameters for the energy that a process or system withdraws from or adds to the water circuit are calculated."
Optimally visualized and networked
In response to the high demand and positive feedback from customers, hotset has accelerated the further development of the D-System and can now – much earlier than planned – present the next model generation of its data logger for hydraulic-thermal process visualization. It scores with numerous new features and functions that optimize mobile use, facilitate the interpretation of measurement data and make documentation more convenient. The most visible innovation is the large 7-inch touch screen, which – in contrast to the previous two-line display – enables the color and synchronous visualization of several progress curves or graphs in MS Excel format. This alone greatly simplifies the process-oriented evaluation of measurement results. All recorded data can be saved, documented and compared at intervals – even with other evaluation processes. In all this, the new W-LAN and LAN interfaces support convenient network connection of the D-System as well as access to the touch screen for visualization of the measurement data on the PC or smartphone. In addition, processes can be logged and synchronized, whereby limit value violations can be output, for example.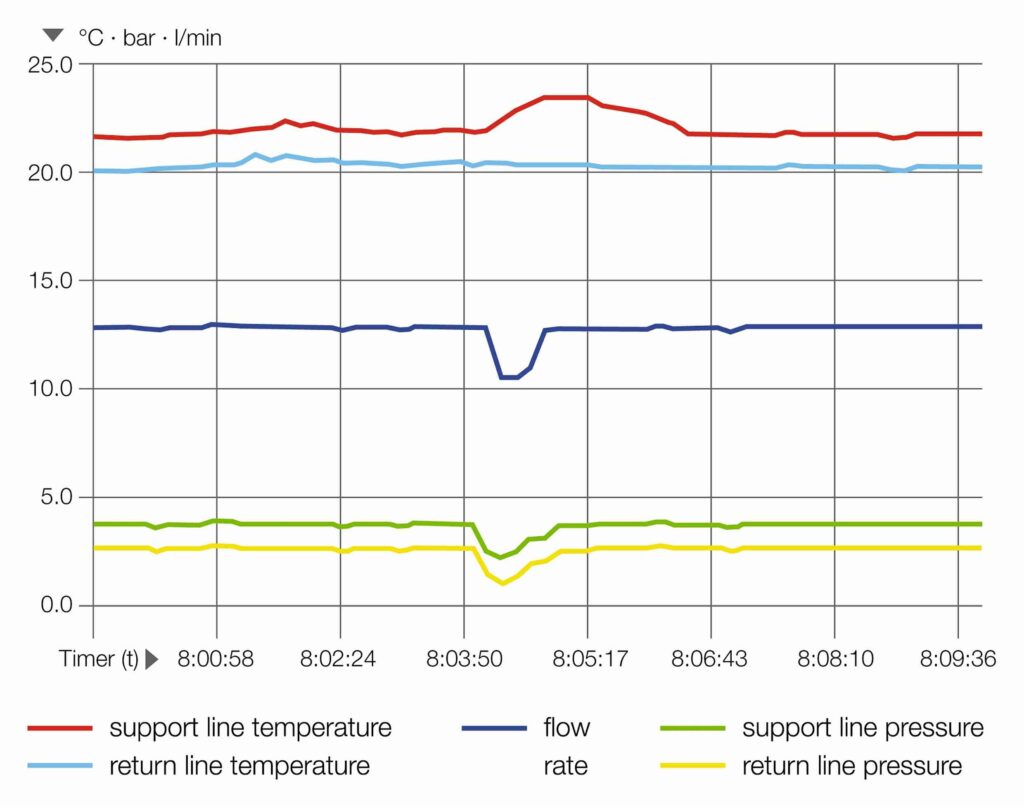 Another improvement is the possibility to operate the D-System now also in battery mode. This gives the user of the data logger maximum mobility and means that it can now be used independently of the 230-volt mains connection, even outdoors and in extensive plants. Battery operation is also a big plus for the use of the D-System as a mobile tool by service and MRO teams.
Great potential
The D-System is already being used to check both new and refurbished water systems (and their tubing) as well as for hydraulic balancing of temperature-controlled tools. In its new version, it should now open up many other areas of application. Thanks not least to its ease of use and compact design – it consists only of the touch screen and a small measuring module – it could even establish itself in many places as a standard tool for tracking and visualizing the hydraulic-thermal processes of water engineering circuits. "Based on the measurement and calculation results of our data logger, users in pump construction, clear water hydraulics, temperature control technology, heating technology, toolmaking and many other industries, for example, can evaluate the energetic reactions of their water cycles and optimize their systems accordingly," explains hotset project manager René Schlöter. In doing so, the D-System always delivers an immediately effective contribution to reducing the operating costs of a plant or machine. As an instrument of preventive maintenance, it can also be used to identify hidden changes in water technology processes – for example, due to premature pump wear or introduced dirt particles.
The new D-System – Technical data
The new D-system from hotset can be integrated very easily into both single-circuit and multi-circuit water systems. Various quick and fixed connections are available for installation. Temperature measurement is possible up to 85° C – spontaneously also up to 95° C – and is carried out with an accuracy of ±0.3 K. Pressure measurements can be made with an accuracy of 0.5% in a range of 0 – 10 bar. Flow measurement with an accuracy of 1% FS (at ≤ 50% FS water) covers a range from 1.8 to 32 l/min. The data logger provides data in the common csv format and the 7″ TFT color monitor offers a resolution of 800 x 400 pixels.
Hotset GmbH, headquartered in Lüdenscheid, is one of the leading international manufacturers of industrial heating elements, temperature sensors and temperature control technology. The company was founded in 1973 and today employs a total of 350 people at six locations in Lüdenscheid (headquarters), Malta, Georgia (USA), Singapore, Suzhou (China) and Bidadi (India). Hotset GmbH is certified according to DIN EN ISO 9001:2015.
Against the background of its successful components business hotset serves many customers with innovative product and system solutions around the industrial heating and heating technology. The main sales areas of the company are plastics processing, toolmaking, foundry, food and packaging technology as well as hot runner technology. In many areas hotset is regarded as a technology leader that provides its customers with a decisive competitive advantage with innovative problem solutions. International project business and the takeover of complete value chains from customers (outsourcing) are currently gaining in importance for hotset.
The business activities of hotset range from development and production to after-sales service. In addition to the production of numerous standard and series products, the realization of intelligent customer and application-specific solutions is in the focus. On the basis of its engineering know-how and with the objective of making the right temperature available at the right place and at the right time within industrial processes, the company is currently opening up numerous new areas of application.
Since 2020, hotset has been operating the system center for industrial temperature control technology (SIT) in Lüdenscheid.