Platform for state-of-the-art maintenance
With 15 different modules, the WERKBLiQ platform is a comprehensive tool for digitalising and ensuring efficient repair and maintenance processes in the industrial sector.
Assurance of the greatest possible machine availability
Increase of process speed
Reduction of media disruptions between all those involved in the maintenance process
Able to be individualised and available independent of location
As part of their digitalisation strategy, DMG MORI AKTIENGESELLSCHAFT took over WERKBLiQ GmbH and their 20-strong team located in Bielefeld in October 2017. WERKBLiQ remains an independent company and offers a multi-vendor maintenance platform so that all those involved in the maintenance programme can remain networked.
Machine failures and unscheduled plant downtimes are particularly critical "pain points" of industrial process chains. This is even more important in light of ever-shorter planning horizons and the trend toward individualised mass production. Service and maintenance play an extremely important role within this context.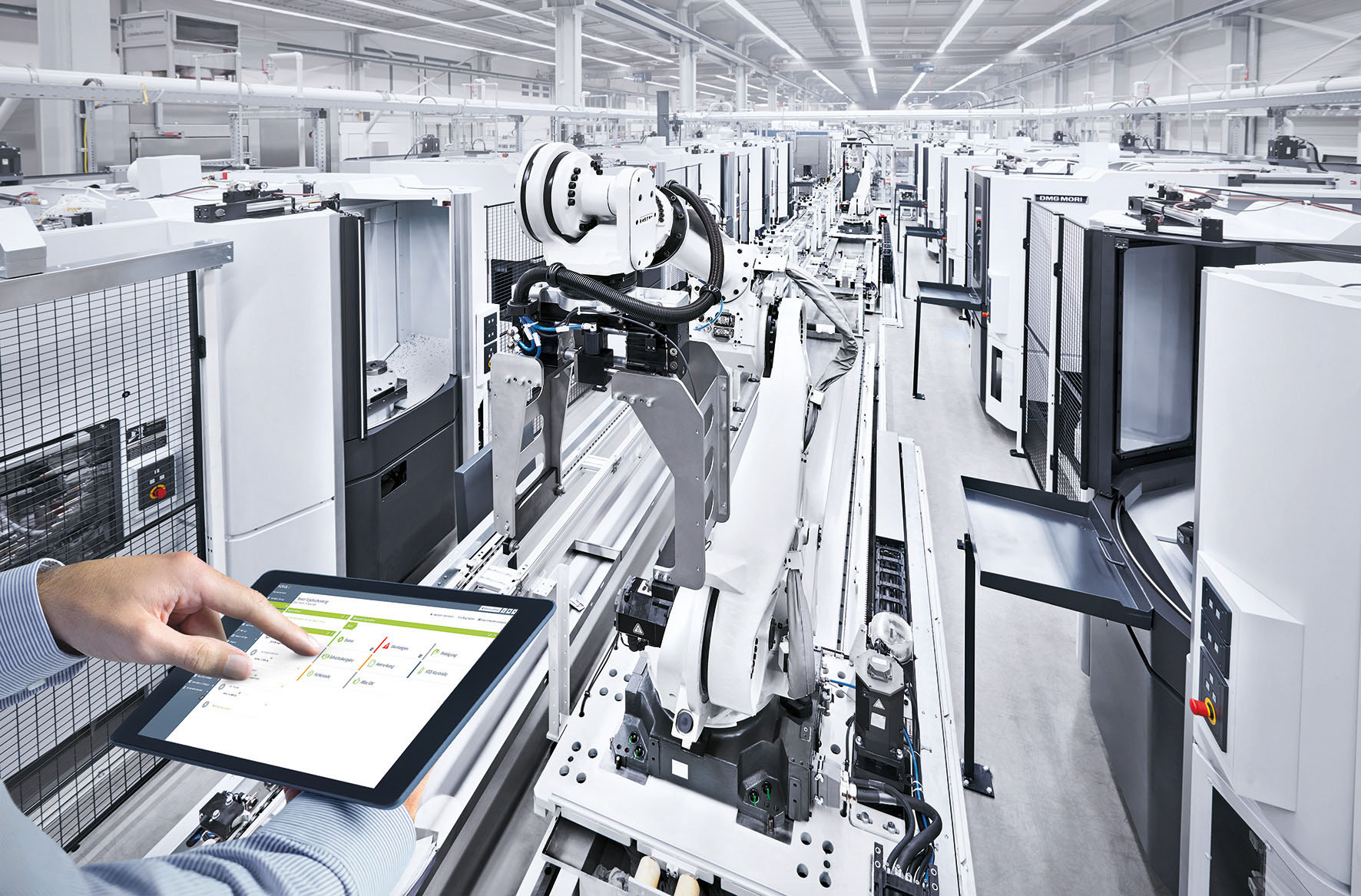 WERKBLiQ digitalises service and maintenance
With 15 different modules, Dr. Tim Busse and his team offer the industrial sector a comprehensive tool to make the entire maintenance process more efficient and much easier. In addition to mapping individual internal processes, the platform offers communication with existing business partners and those who are interested in becoming one. Today there are more than 220 users and more than 150 machines with a total of 5,132 scheduled maintenance works on the platform.
Accelerate and optimise the flow of communication and information
"The digital repair and maintenance process available through the WERKBLiQ platform accelerates and optimises the entire flow of communication and information", promises Dr. Tim Busse. Starting with integrated monitoring and controlling routines through planning, organisation and implementing all technical and administrative procedures right through to inspection, maintenance, repair and the improvement of production systems. Dr. Busse is enthusiastic: "Quite simply, our platform is an all-round convincing package. Simple to operate, comprehensive functionality and with a range of convincing customer benefits."
Just get going
All that is needed to get going is a conventional tablet, an up-to-date browser and an internet connection. WERKBLiQ is already available as an app on DMG MORI machines with CELOS V5.0. This means that operators have digital central control of the maintenance process directly on their machines.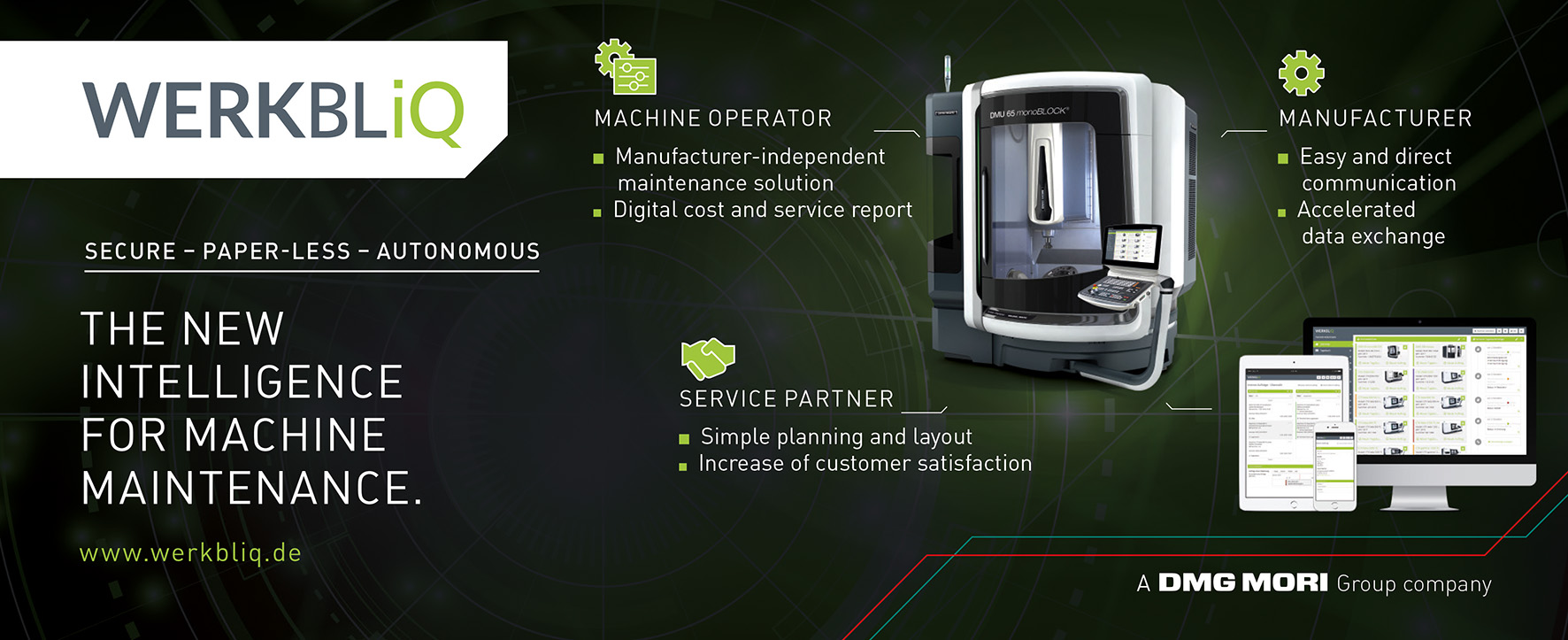 Information will never be lost again, thanks to automated data transmission through the CELOS NETbox and the manual maintenance of relevant procedures in the machine logbook. A calendar overview of all maintenance dates with a reminder function and supporting checklists to work through ensure employees are ready for the next audit at all times.
The automatic transmission of all machine details and the history function minimise queries and unnecessary service calls. Should an on-site visit be necessary, the WERKBLiQ user can request a service technician directly via the platform on the machine. Questions and orders for spare parts can also be completed via the platform. When it comes to maintenance, WERKBLiQ offers an all-inclusive package for peace of mind.
Bottom up on the "Path of Digitization"
Dr. Busse believes WERKBLiQ's individual bottom-up strategy harmonises perfectly with DMG MORI's "Path of Digitization". For him, 2018 will be dominated with universal integration into the digital DMG MORI customer processes: "From the moment machine operators and DMG MORI come together as service partners on a common platform, service tasks become significantly faster and much easier to allocate, control and document. The entire management process for spare parts can be concluded efficiently and transparently."
The digitisation pacesetter
DMG MORI and WERKBLiQ will work together with the new ADAMOS platform on the development and harmonisation of standards for information and communication processes for the Internet of Production.
Press release from DMG MORI