Premiere at Formnext 2021: AIM3D unveils the innovative ExAM 510 3D pellet printer
Considerably higher precision and faster build rates compared to conventional extrusion 3D printers
Universal: large 510 x 510 x 400 mm build platform
Highly cost-effective: pellet-based processing of high-performance plastics such as PEEK and PPS, with and without fibre filling
Rostock, Germany, October 27, 2021: AIM3D, a manufacturer of multi-material 3D printers, has developed a new, more powerful 3D printer for the CEM (composite extrusion modelling) process. The new ExAM 510 boasts a larger build area, higher precision and faster build rates. The ExAM 510 printer is a multi-material printer for additive manufacturing that can print up to three different materials in parallel. The ExAM 510 printer is a performance-enhanced version of the previous ExAM 255, both of which will be part of the Rostock company's product range in the future. The new model will be on show as a prototype at Formnext 2021. After a beta phase with pilot processors, the ExAM 510 is planned to be ready for series production in time for Formnext 2022, according to the manufacturer.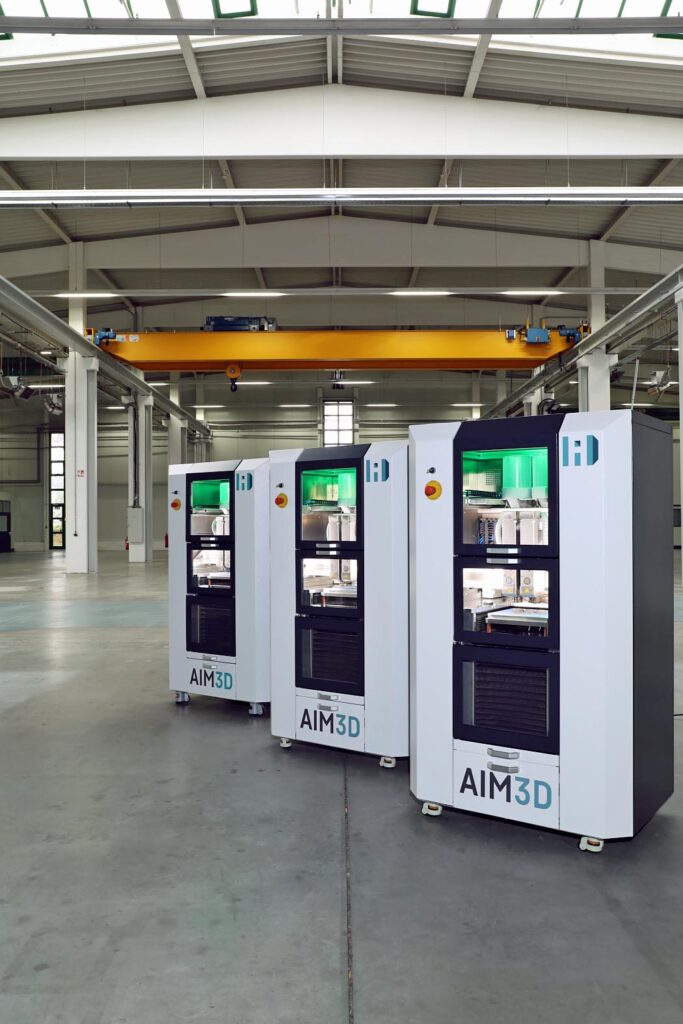 Pic.  Exam 255
Setting new standards with the ExAM 510
As the latest addition to the Rostock company's product line-up, the ExAM 510 printer is a further development of the smaller EXAM 255 model. The innovative multi-material printer can process up to three materials. This allows for two building materials and a support material. The extended build platform of 510 x 510 x 400 mm enables a multitude of applications. The build area can be heated up to 200ºC in order to reduce stresses in the component and to process high-performance materials. It also features a considerably increased build rate, depending on the material, of up to 250 cm³/h (when using a 0.4 mm nozzle).
High precision and excellent component quality
The ExAM 510 concept enables significantly increased precision of printed components. The objective of developing the machine was to get even more out of the patented AIM3D extruder technology. This extruder class enables an output up to 10 times higher than standard filament extruders. The use of linear motors and a stable mineral cast bed makes extremely precise operation possible even at high speeds, thus fully exploiting the potential of the technology.
Key advantages of diverse materials and cost savings
The use of a wide range of materials is the particular appeal of the ExAM 510. AIM3D equips the machine with a heated process chamber specially designed for high-temperature plastics. This enables the processing of high-temperature plastics such as PEEK, PEI, PSU, PPS, with and without fibre filling. Corresponding experience with the extruders had already been gained with the ExAM 255. This means that a user can, for example, process PEEK, either unfilled or filled with fibre material, directly in pellet form in additive manufacturing. This results in an enormous cost advantage in terms of the raw materials. Recycling this material is also much easier and cheaper. According to the manufacturer, a material can be tested in 1 to 2 working days and established for production in 5 to 10 working days. The material PEEK, for example, demonstrates these high cost savings most clearly: if the price for PEEK filament is around €700/kg used on conventional additive manufacturing machines, the ExAM 510 can use PEEK pellets, as deployed in classic injection moulding. The market price of around €50/kg for PEEK pellets amounts to only 7% of comparable material costs or a cost reduction by a factor of 14. This opens up completely new dimensions in terms of cost efficiencies.
Areas of application and potential
Classic areas of application for high-performance polymer materials can be found in automotive, medical technology or aerospace. AIM3D's pilot customers are from these industries. Clemens Lieberwirth, CTO at AIM3D: "The further development of our patented ExAM 255 machine into the ExAM 510 is a technological leap for us. So you could say we are now offering a faster, bigger, hotter and more precise CEM process technology for additive manufacturing."
Table 1: CEM technology – fields of application according to materials
Metals
Stainless steels, copper,

tool steels, tungsten, tungsten carbide

Fixtures

Inductors,

Moulding dies,

Collimators

Internally cooled tools

Ceramics
Aluminium oxide

Zirconium oxide

Silicon carbide

Silicon nitride

Chem. process technology,

High voltage isolators,

Thermally stressed components

(Reinforced) plastics
PA6 GF30

PPS GF 40

PEEK

PEI

Coolant technology,

Automotive applications,

ESD housings
Table 2: Comparison of ExAM 255 and ExAM 510 models
| | | |
| --- | --- | --- |
| | ExAM 255 | ExAM 510 |
| Printing area | 255 x 255 x 255 | 510 x 510 x400 |
| Print temperature | 60 °C | 200 °C |
| Print rate | 40 cm³/h | 250 cm³/h* |
| Print heads | 2 | 2 + 1 support head |
| Primary area of application | MIM/CIM | Reinforced high-performance plastics |
* Depends on the nozzle diameter, layer thickness and component geometry
 Table 3: ExAM 510 technical data
Print heads
2 CEM pellet print heads max. 450°C

1 filament print head

Build platform
Vacuum clamping platform,

heatable up to 200°C

Print area
510 x 510 x 400,

heatable up to 200°C

Kinematics
X : linear motor,

Y: linear motor,

Z: Spindle axle

Print speeds
X/Y: 510 mm/s,

Z: 20 mm/s

Precision
X/Y: +/- 3µm,

Z: +/- 10µm
 Table 4: Range of materials for the ExAM 510
| | |
| --- | --- |
| Plastics | PETG, PP, PA6, POM, PPS, PEEK, PEI, TPE |
| Reinforced plastics | PA6 GF30, PA6 GF40, PA6 MF60, PBT GF30, PA12 GF30, PA6 GB, PA6 CF15, PPS GF40, PEEK CF, PEEK Si |
| Metals | 316-L, 17-4PH, 8620, 42CrMo4, 304, 420 W, WcCo, Ti64, Cu99 |
| Ceramics | Al2O3, ZrO2, SiC, Si3N4 |
Table 5: Comparison of costs of the ExAM 510 with a professional high-temperature filament printer
| | | |
| --- | --- | --- |
|   | AIM3D ExAM 510 | Industrial FFF printer |
| Print time (h:min) | 36:34 | 63:30 |
| Printer price*           (EUR) | 642.40 | 1,117.60 |
| Material costs         (EUR) | 42.56 | 425.60 |
| Operator costs        (EUR) | 22.50 | 22.50 |
| Total costs              (EUR) | 707.46 | 1,565.70 |
*Depreciation, maintenance costs, energy consumption and space requirements were included in the calculation of machine costs
**Boundary conditions for the calculation: material: PEEK 608 g; nozzle diameter: 0.4 mm; layer height: 100 µm; personnel cost rate: EUR 75/h; preparation time: 5 min; rework: 20 min
AIM3D: An Overview          ████████████████████████████████████
AIM3D GmbH is a start-up founded in 2017 as a spin-off from the University of Rostock (Chair for Fluid Technology and Microfluid Technology) in Rostock (Germany). The company manufactures industrial 3D printers that use the CEM (composite extrusion modelling) process.
This enables the manufacture of components and prototypes on the basis of commercially available injection moulding pellets for metal, (filled) thermoplastics and ceramics without the need for retrofitting on a disruptive multi-material 3D printing system.
The universal printing systems from AIM3D exceed material limits, enable the use of conventional injection moulding materials and thus offer an extremely cost-effective approach to additive manufacturing.
As a unique selling point, these 3D printers have a patented AIM3D CEM-E-1-Extruder®, which can process almost any injection moulding pellets up to a length/diameter of 3 mm. The high compression process results in consistent print results at all times.
The 3D printers from AIM3D are in no way inferior to the FDM and FFF printers available on the market and offer a cost-effective option to conventional 3D printers, as they do not use spherical powders or plastic filaments. This means that the prototype material can therefore be identical to the final component. The machine features an automatic material feed and uses up to one litre of material per extruder. This corresponds to approx. 1.2 kg ABS or up to 4.4 kg stainless steel. The material hopper can be refilled during the printing process.
For post-processing, AIM3D's ExSO sintering furnace debinds and sinters metal parts directly after the 3D printing process on the ExAM machine. At the push of a button, both processes run fully automatically in one system, manufacturing high-density metal parts using the CEM process. The gentle, homogeneous generation of the metallic structure in the sintering furnace results in metal parts with a structure similar to that of cast iron, which are almost completely free of residual stress.
AIM3D is part of a comprehensive technology and research network with universities and industry as partners.
HZG Management GmbH, Coburg (Germany), has been a shareholder since 2021. This holding is managed by Frank Herzog, pioneer of the LaserCusing® process and founder of Concept Laser, Lichtenfels (Germany).
Multi Material Additive Manufacturing Technology beyond Limits.
All image sources: AIM3D GmbH, Rostock (Germany)