PRODUCTIVITY LEADERS – DEVELOPMENT COLLABORATION OF HONEYWELL AND SLM SOLUTIONS BEARS FRUITS
Lübeck, July 20, 2020. Honeywell and SLM Solutions achieve an important success in their development collaboration for the qualification of aluminum parts printed with high layer thicknesses. Newly developed parameter sets for aluminum alloy F357, a new beryllium free version of AlSi7Mg0,6 (A357), lead to considerably improved material properties compared to parts produced through die-casting. The work between Honeywell and SLM Solutions, announced in 2019, aims to reduce manufacturing times and costs to produce 3D printed aircraft components that meet the high requirements of the aerospace industry.
As part of the collaboration that kicked off in 2019, Honeywell began qualification efforts for aluminum builds using an increased layer thickness of 60 and 90 µm on their quad-laser SLM®500 Selective Laser Melting Machine. SLM Solutions provided generic aluminum parameter sets for Honeywell to complete material qualification to achieve optimal material properties. The development of these new parameter sets for aluminum alloy F357 using a layer thickness of 60 µm and 700 W lasers has now reached an important milestone. Material properties have significantly increased in comparison to conventional die-cast parts and are now exceeding overall acknowledged metallic properties for aerospace.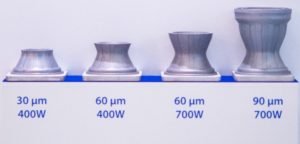 Aluminum alloy F357 is not only lightweight but offers a significantly better corrosion resistance and desired mechanical properties, such as high-strength across a wide temperature range in comparison to conventional aluminum alloys. It has a great weldability and excellent suitability for post-processing, like mechanical machining or electrochemical such as anodizing. This combination of properties enables F357 to be perfectly suited for thin walled and complex structures in, for example, the aerospace or automotive industry.
Dr. Sören Wiener, Senior Director Technology and Advanced Operations at Honeywell Aerospace, comments on his work with the SLM®500: "In particular, the open architecture system of the SLM® machine provides huge advantages like high flexibility and parameter sets can be customized. With this open access strategy and the great support of SLM Solutions, we step forward to achieving our next goals."
Benjamin Haas, Product Manager for Materials & Parameters at SLM Solutions explains: "It is a privilege to work together with one of the leading companies in the aerospace world. This way, we can learn a lot from each other leading to perfectly suited, industry proven solutions from which all of our customers can benefit".
About SLM Solutions
SLM Solutions' robust Selective Laser Melting metal additive manufacturing systems optimize fast, reliable and cost-efficient production for complex, completely dense metal parts. The company focuses on long-term success, providing support and knowledge-sharing to elevate customer production. A publicly traded company, SLM Solutions Group AG is headquartered in Germany with offices worldwide.
Source/Photos :  SLM Solutions