Rapid.Tech 2018: APF specialists to show Freeformer and numerous functional parts
Arburg Plastic Freeforming: Industrial additive manufacturing with qualified original materials
Freeformer: Wide range of functional parts for high-end industries such as medical technology
Arburg Prototyping Center: Rapid production of prototypes
Lossburg, 3/5/2018
At the Rapid.Tech user convention and trade fair to be held from 5 to 7 June 2018 in Erfurt (Germany), Arburg will present the potential of the Freeformer and Arburg Plastic Freeforming (APF) in hall 2, stand 2-409. In addition to the industrial system, a wide variety of sample components will be on view to demonstrate the universal areas of applications for industrial manufacturing.
A wealth of expertise relating to the industrial additive parts manufacturing awaits visitors to the Arburg stand. The APF experts will provide advice both on the Freeformer technology as well as on the processing of qualified plastic granulates. To demonstrate the wide range of parts at the trade fair, numerous APF products, along with their manufacturing details, will be presented. A workstation will also be on display, at which visitors can test the quality and functionality of an APF part for themselves. Moreover, there will be an opportunity to take a close look at the Freeformer at first hand.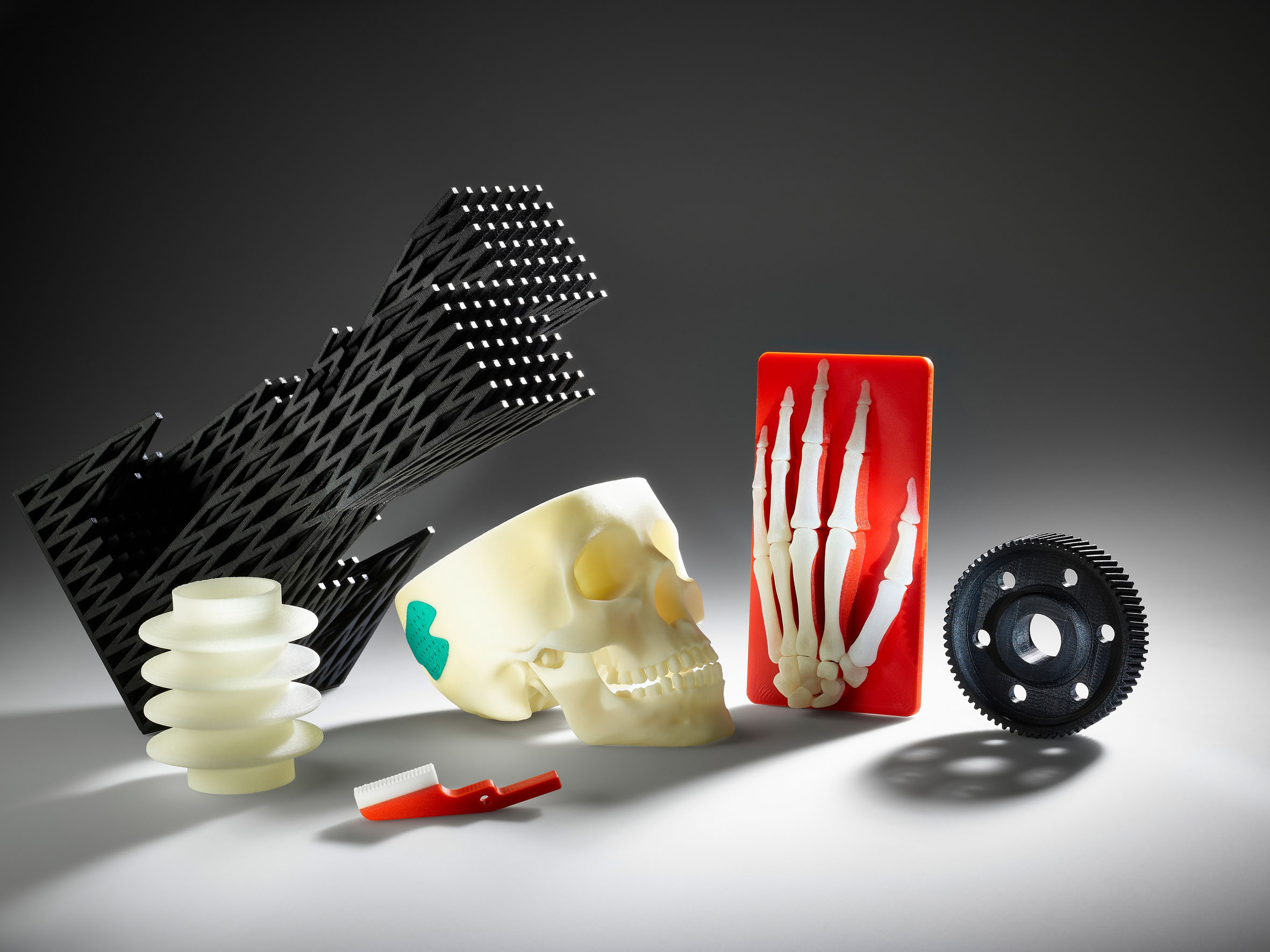 APF functional parts versatile in use
The areas of application of the Freeformer are manifold, as the various APF part examples from Arburg demonstrate. Parts additively manufactured on the Freeformer include:
Implants such as skull, cheek and finger bones made from medical PLLA (e.g. Purasorb PL18), which dissolve in the body after a specified time, as well as sawing templates from PA, which are used as individualised surgical aids.
An articulated rope pulley, including housing and fastening hook made from chemically resistant organic polyamide (Grilamid BTR 600), which can withstand loads of up to 100 kilos.
Moving planetary roller screw drives made from the hard/soft combination TPU and PHA (Arboblend), which are fully functional without requiring assembly.
"Light sticks" – an application from the Fraunhofer ICT – as an example of how additional properties can be integrated into parts in a targeted manner via functional materials. For this purpose, electrically conductive Carbon Nanotubes (CNTs) are compounded into the plastic so that an inserted LED lights up when a current is applied.
Components made of such high-end materials will be on view for the Rapid.Tech trade visitors on the Arburg exhibition stand. Those whose interest is aroused will have the opportunity to have sample parts produced at the Arburg Prototyping Center at the Lossburg headquarters in order to test the possibilities for using the APF process in their production facility. For this purpose, seven Freeformers are available for processing different materials.
Press Release from ARBURG