Simply more: Allrounder More! More space, modularity, and ease of use with multi-component injection moulding
More space: Larger mould dimensions and ejector strokes, and greater distances between tie-bars
More modularity: Flexible injection positions for injection units
More ease of use: Plug-in media couplings and optimised material feed
Lossburg, 28 July 2021
Arburg is launching a new series for production-efficient multi-component injection moulding: the Allrounder More, with its particularly flexible configuration, can now be perfectly adapted to specific customer and market requirements. The machines offer increased space for larger moulds, greater modularity during assembly, as well as numerous optimised features for greater ease of use and simple maintenance.
"Multi-component injection moulding is a very significant and very demanding process. As a pioneer in this sector, we have more than 60 years of technical applications-based expertise. Our ultra-modern range of machines has been developed upon this foundation", explains Gerhard Böhm, Managing Director Sales and Service at Arburg. "We very much look forward to the Fakuma trade fair, at which we shall be showcasing the new Allrounder More which covers requirements down to the smallest of details. The first machines will be available to order from October 2021."
Electric clamping combined with flexible injection
All Allrounder More machines are equipped as standard with a highly dynamic electric toggle-type clamping unit with energy-efficient liquid-cooled servo motors. At series start, the machines have two electric injection units and a clamping force of either 1,600 or 2,000 kN, as required. In future, it will be possible to select injection positions using modules. At series start, one horizontal and one vertical injection unit (V-position) will be available as standard. Horizontal L-shaped (L-position), parallel vertical or parallel horizontal (P-position), and angular (W-position) injection units will additionally be available as options. This will enable all common two-component applications to be realised.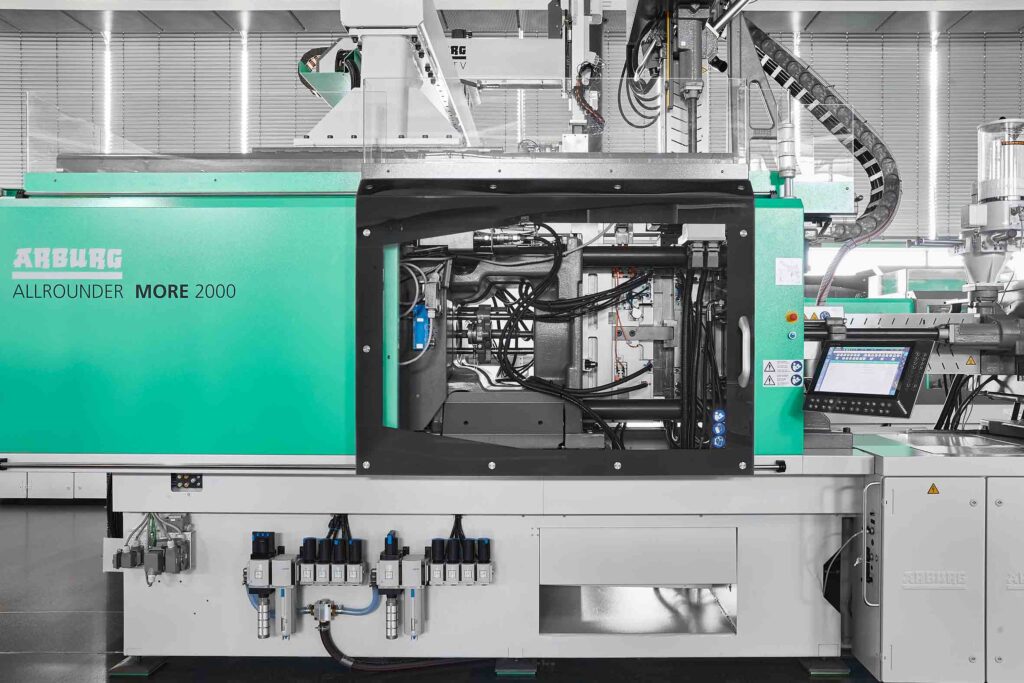 The increased installation space of the Allrounder More offers more room for larger moulds and convenient mould changes.
Plenty of free space for mould and ejector
This is because Allrounder More machines provide significantly more space for moulds, rotary units, media connections and a usable ejector stroke. The tie-bars have been extended by 200 millimetres as standard and the moving mould mounting platen has also been enlarged by 200 millimetres. The distance between tie-bars is 570 x 570 millimetres, and the maximum platen daylight 1,200 millimetres. The sliding guard has also been widened by 400 millimetres. Together, all these features facilitate accessibility to the mould area.
The details make the difference
Special emphasis has been placed on ease of maintenance and use. Among such features are plug-in media couplings for electrics, water and hydraulics. The cylinder module can be changed in a few easy steps. The vertical injection unit can be conveniently positioned on a support frame, placed on the ground and transported separately from the machine if required.
The material is fed outside the mould area so it cannot be contaminated by granules. Hose guides optimise hose routing and prevent possible chafing marks.
With its numerous improvements to details and modular design, the new Allrounder More series meets all the requirements of a modern multi-component machine. It offers customers from a wide range of industries added flexibility for precision configuration and greater efficiency in the production of high-quality plastic parts made from different materials and colours.
About Arburg
German family-owned company Arburg is one of the world's leading manufacturers of plastic processing machines. Its product portfolio encompasses Allrounder injection moulding machines with clamping forces of between 125 and 6,500 kN, the Freeformer for industrial additive manufacturing and robotic systems, customer and industry-specific turnkey solutions and further peripheral equipment.
An international sales and service network ensures first-class customer support at a local level: Arburg has its own organisations at 35 locations in 26 different countries and, together with its trading partners, is represented in more than 100 countries. Its machines are produced exclusively at the parent company in Lossburg, Germany. Of a total of roughly 3,200 employees, around 2,650 work in Germany. About 550 further employees work in Arburg's organisations around the world. Arburg has triple certification, in accordance with ISO 9001 (quality), ISO 14001 (environment) and ISO 50001 (energy).
Further information about Arburg can be found at www.arburg.com