Six candidates are nominated for the innovation award "Bio-based Material of the Year 2019" – you have the choice
For the twelfth year in a row, the innovation award "Bio-based Material of the Year" will be granted to the innovative bio-based chemicals and materials industry for finding new applications and markets for their bio-based materials.
The winners will be selected at the "12th International Conference on Bio-based Materials", 15-16 May 2019, in Cologne, Germany. Out of a total of 21 applications, six new materials and products have been nominated for the innovation award by the members of the conference advisory board.
After a short presentation of the six candidates, the three winners will be elected by the participants of the conference and honoured with the innovation award, sponsored by InfraServ GmbH Knapsack, at the festive dinner buffet.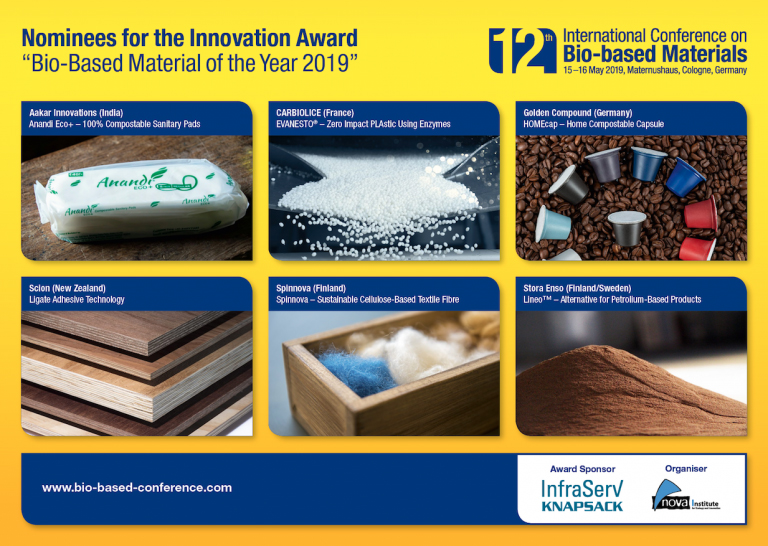 What to expect – the "Top 6" candidates in detail:
Aakar Innovations Pvt. Ltd. (IN): Anandi Eco+ – 100% Compostable Sanitary Pads
Anandi Eco+ is the first and only Govt. of India Lab certified 100% compostable sanitary pad. In a compost environment, at least 90% of the pad are biodegraded within 180 days. Under other conditions in nature it takes longer respectively. The pads can be disposed easily in the backyard mud pit of any rural household to avoid polluting the environment and create bio-manure for agriculture. Aakar also uses local resources like jute, bagasse, banana fibre and water hyacinth to produce their sanitary pads to reduce cost and utilizes agricultural plant waste materials. Anandi Eco+ pads do not use any harmful chemicals like SAP and convert into manure post disposal, which can be further utilised. This way, the pads contribute to environmental protection and increased resource reuse. It also follows the Compostable American Standard ASTM D6400 & European Standard EN 13432. Aakar contributes to 12 out of the 17 Sustainable Development Goals of the UN through their work.
CARBIOLICE SAS (FR): EVANESTO® – Zero Impact PLAstic
CARBIOLICE has developed a disruptive solution based on an innovative technology using enzymes to speed up compostability and biodegradability of PLA plastics. Developed as an additive, EVANESTO® can be used on conventional plastic transforming processes without adaptation. This innovative additive is best suited for applications such as single-use plastics in which compostability and biodegradability are a meaningful end-of-life. It can be used to make products that are 100% compostable and biodegradable. EVANESTO® performance has been successfully demonstrated on thin films and sheets, by tests performed by Organic Waste Systems N.V. under domestic composting conditions according to NF T51-800. Ready to reach the market in early 2020, EVANESTO® is intended for various uses such as bags, packaging, disposable tableware etc.
Golden Compound GmbH (DE): HOMEcap – Home Compostable Capsule
HOMEcap is the world's first and only home compostable capsule successfully introduced in the market which is "OK compost HOME" certified and made with natural fibres of the sunflower seed hull. It is made from a unique compound comprising PTTMCCs PBS and PBSA mixed with sunflower seed shells and inorganic fillers. It comes with a paper and cellulose based lid, which is sealable to the capsule without any additional glue, and of course the lid is home compostable as well. The material composition results low oxygen transmission rates, which allows to avoid additional barrier packaging and therefore saving even more waste. A VDI 4605 sustainability assessment showed that this capsule outperforms current state of the art capsules like deep-drawn PP EVOH multilayer capsules.
Scion – New Zealand Forest Research Institute Ltd (NZ): Ligate Adhesive Technology
Scion's LIGATE™ is a bio-adhesive technology from 100% bio-based and sustainably grown products, including lignin, tannin and protein. It can be used to manufacture engineered wood products that do not emit volatile organic compounds like formaldehyde and that have reduced life cycle impacts compared to products made using traditional petrochemical adhesives. Water-based, non-toxic ligate adhesives are compatible with existing adhesive and panel board manufacturing equipment. Unlike other bio-based adhesives, Scion's resin does not just replace petrochemical-based components but incorporates bioinspired chemistry approaches in a scalable and very simple way to deliver a product that performs and is environmentally friendly.
Spinnova Oy (FI): Spinnova – Sustainable Textile Fibre
Spinnova is a sustainable fibre company from Finland that develops ecological breakthrough technology for manufacturing cellulose-based textile fibre. Spinnova's patented technology involves zero harmful chemicals and creates no waste or side streams, making the fibre and the production method probably the most sustainable in the world. The biggest difference to other man-made cellulosic fibres is that there is no use of dissolving throughout the whole process. Spinnova's raw material commitment is to only use FSC certified wood or waste stream-based cellulose. Spinnova's objective is to globally commercialize the fibre products in collaboration with major textile brands.
Stora Enso (FI/SE): Lineo™ – Lignin Alternative for Petroleum Based Products
Making up 20-30% of wood's composition, lignin is often discarded or burned during the pulp production process. However, when extracted and converted, lignin could transform the way we use natural resources to make products. In 2018, Stora Enso launched Lineo™, a renewable, wood-based, non-toxic alternative to fossil-based materials. Lineo™, Stora Enso's lignin, can be used to replace oil-based phenolic materials in a range of applications, such as in resins for plywood, oriented strand board (OSB), laminated veneer lumber (LVL), paper lamination and insulation material. Stora Enso continues to research new Lineo™ applications and is currently focused on researching its use in formaldehyde-free binders, carbon fibre and energy storage.
The drivers of the bio-based industry meet in Cologne
The final programme of one of the biggest conferences in the European bioeconomy is now available online. The "12th International Conference on Bio-based Materials" features key innovation issues in the field of bio-based building blocks & polymers, bio-based fine chemicals, industrial biotechnology and biodegradable solutions. In addition, future visions and the latest policy regulations will be discussed.
In the framework of the conference, EU project-related workshops will take place at the same venue the days before and after the conference. In these workshops, international experts of the bio-based industry will cover the latest technology trends, market data and strategies. Additionally, on the second day of the conference, there will be a workshop on In-Depth B2C Market Research and GreenPremium. More information about the about the whole range of available workshops here.
More than 200 participants are expected to attend the "12th International Conference on Bio-based Materials". More than 16 exhibitors have already booked their stand. All information, registration and the conference programme are available at www.bio-based-conference.com