SPE's Additives & Color Europe Conference moves to Frankfurt!
This biannual conference is the best place to learn about the latest in state-of-the-art additives, pigments & dyes and master batches for plastics, and connect with the entire industry value chain, from raw material and equipment suppliers to OEMs (Original Equipment Manufacturers).
Volkswagen, Tupperware, Danone, Mondelez, A. Schulman, BASF, Sabic, Bayer Material Science, DuPont, 3M, Evonik, Leistritz, Ferro, Shepherd Color International and many other key industry leading companies throughout the value chain have actively participated in previous conferences.
Our audience is a very technically-oriented group of industry players coming from all around Europe.
2019 Conference Focus:
Better understanding of OEM's expectations on additives, pigments & dyes and masterbatches to better meet their growing needs.
Presenting the latest product novelties
Sharing knowledge on hot topics related to additives and color, functional colors, extending life of plastics, and regulatories, etc.
Who Should Attend:
OEM (Original Equipment Manufacturers), Designers & Specifiers
Converters
Masterbatch & Compound Producers
Polymer, Additives & Pigment/Dye Producers
Equipment & Instrument Producers
Chemical Distributors
Research & Development Centers
Why Attend:
Attending this conference allows you to keep a finger on the pulse of advancements in the world of additives and color. In addition to the technical speakers and presentations, we also offer the opportunity for companies to present their goods and services by means of table-top displays.
The nature of our organization, which is led by volunteers, provides a very friendly and personal atmosphere, making the conference the ideal venue for networking and establishing contacts throughout the industry.
Event schedule:
Wednesday, March 27 (PM)
Pre-Conference Seminar, 
'Additives creating Value to Plastics'
Thursday, March 28 (all day) to Friday, March 29 (AM)
Conference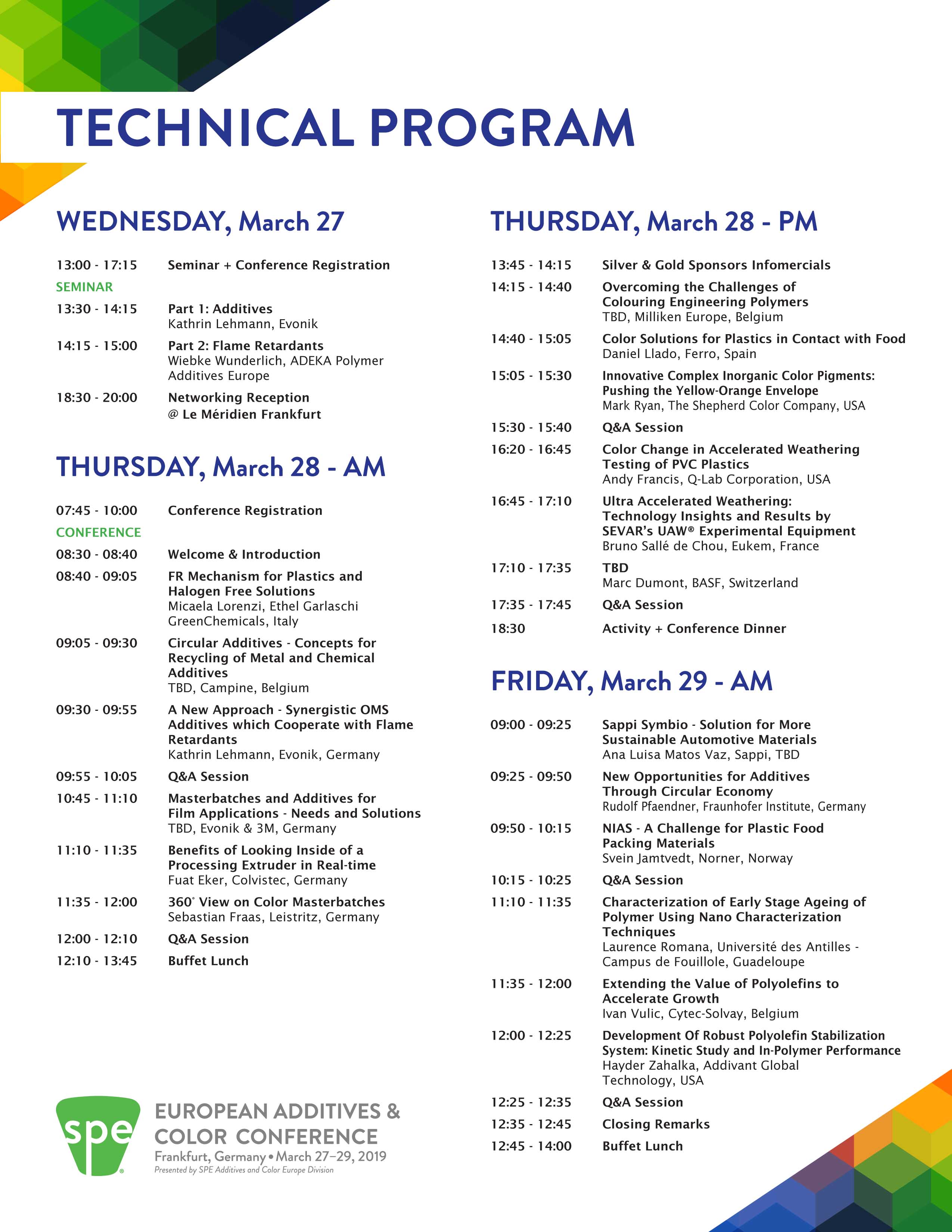 Organized By:
The SPE: Inspiring Plastics Professionals (Society of Plastics Engineers) is home to nearly 23,000 plastic professionals in more than 84 countries around the world. SPE is the "go to" resource for plastics technical information. Access to an online techical library, training and educational services, references to expert services and new opportunities through the career center are just some of the many benefits of SPE membership.
Additives and Color Europe (ACE) is a Division of SPE. It is the purpose of ACE to stimulate and diffuse the knowledge of the modification and the coloration of plastics and polymers in Europe and to provide a platform to the plastics additives and colors community.
Source: Society of Plastic Engineers