Strong start into 2021 for the Kübler Group – Innovation marathon shows effect
Villingen Schwenningen. The Schwenningen-based family business Kübler, one of the larger regional employers, has made a successful start to the first quarter of 2021. A revival had already become apparent at the end of 2020. Despite the aggravated pandemic conditions and an availability crisis of electronic components, a record turnover was achieved, in March the sensor specialists achieved the highest monthly turnover in the 61-year history of the company.
The management thanked all employees for this success with a special bonus. "Together we made this success possible. Many employees in production volunteered their full commitment in many special and weekend shifts," said Gebhard Kübler, Managing Director and shareholder, in appreciation. In addition to an economic upturn, the technology specialist attributes its success to intensive preliminary sales work and product innovations, according to Martin Huth, Managing Director Sales Marketing. "Industries such as automotive, logistics, elevators are currently feeling a revival." Kübler expects a tailwind in the coming quarters and hopes that the third Corona wave will not cause any major damage, he adds.
With the highest quality standards and technological milestones, Kübler is today one of the leading suppliers of encoders (position and motion sensors), slip rings (transmission technology), counting and display technology and supplies renowned customers worldwide. Kübler is successful in over 50 countries with 10 subsidiary companies on all continents, from Europe to America and Asia. Production takes place in Germany, at the plant in Pune, India, and at the US subsidiary in Charlotte, NC (USA). 15% of all employees work in research and development (R&D), which Kübler carries out at its headquarters in VS, as well as in Otterfing (slip rings) and for some years now also in Berlin. The independent family business in its second generation employs just under 500 people, 370 of them in Germany.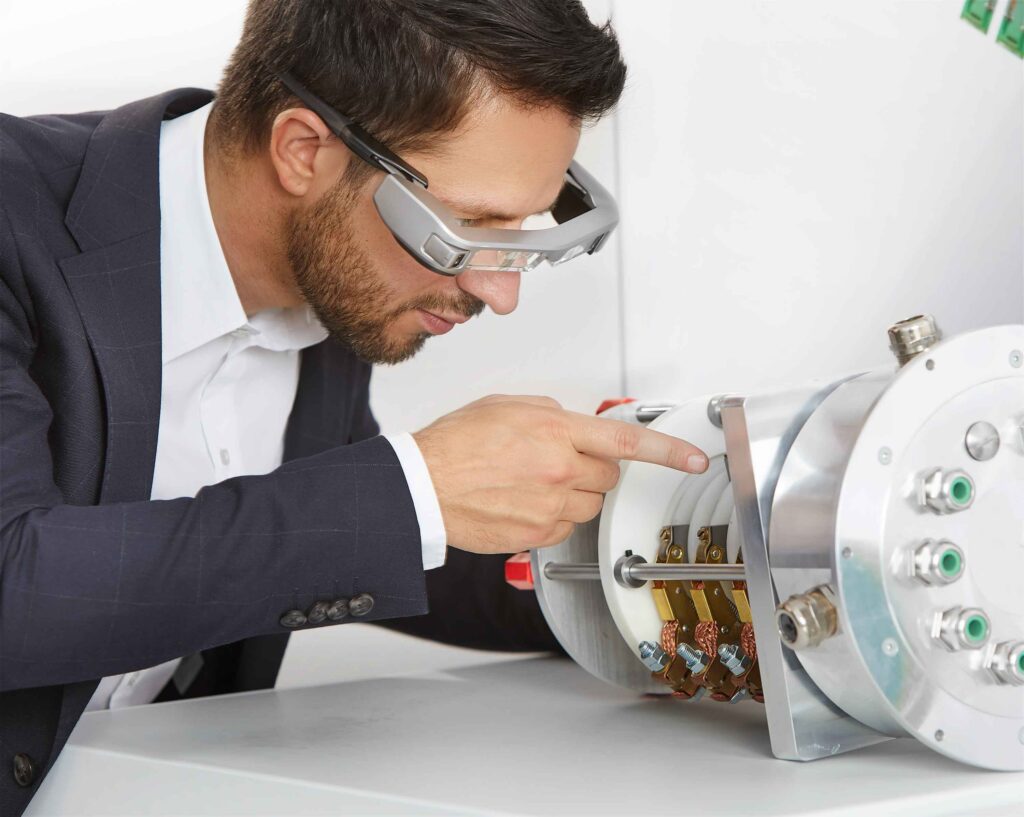 The sensor specialist has invested heavily in R+D in recent years and has developed several new product segments, explains Lothar Kübler, adding: "We call this the Kübler – Innovation Marathon, because it takes a lot of staying power. Our new products are prepared for the digital world (Industry 4.0), which ensures future security." As an example, the brothers and company owners, Lothar and Gebhard Kübler, describe the latest encoders or slip rings, which, when installed in generators or drives, can determine and transmit data for preventive maintenance. This saves end customers expensive machine downtime.
Kübler is currently setting its sights on high-growth industries of the future. These include manufacturers of energy-efficient drives, energy-saving elevators or wind power. Focusing on sustainable growth industries and megatrends such as urbanization makes double sense, he says: "We have the right innovations in our portfolio to succeed there, and we are promoting the EU's Green Deal for reduced CO2 emissions," says the management, citing examples: "We fully integrate our new smart magnetic ring encoders into motors, helping our customers to develop compact, energy-saving drives of the highest efficiency class. A wind turbine can use our latest Profinet encoders to safely regulate down during storms and exchange relevant data with a cloud." This is made possible by a growing proportion of software in the encoder, explains Lothar Kübler, who already sees self-learning sensors (artificial intelligence) on the development roadmap.
Long-term orientation
What drives the entrepreneurs Gebhard and Lothar Kübler? The backbone of the company strategy is long-term orientation. "We want to hand Kübler over to the third generation as a strong company. That is why we invest a lot of money in technology, products, production and sales, and sometimes make courageous decisions without being naïve. But we are also driven by very "traditional" things: a commitment to our headquarters in Villingen-Schwenningen and to our other locations, or our ability to finance growth ourselves and thus to remain independent". Being able to make a contribution to an environment worth living in with one's own company is also becoming increasingly important for companies. All this makes Kübler in the area an above-average attractive employer, which not only offers a range of benefits, but employees can take on a lot of responsibility for future-oriented topics. This would give rise to passion, the real asset for being successful in the market.
Contributing to success
Both at the founding and main production location in Villingen-Schwenningen and at the other locations Kübler is filling new positions, including positions for engineers in development. They are looking for people who would like to become part of the large international Kübler family. Since the beginning of the pandemic, extensive hygiene measures, which have been checked and praised by the health authorities, have also ensured safety and a good feeling. Here we are always trying to respond dynamically and up to date to the requirements of the pandemic. So far with success.
Virtual Hannover Messe and own digital events
A suitable opportunity for Kübler to present new products, such as the new IO-Link and PROFINET encoders, was, as every year, the Hannover Messe. Under the motto: INDUSTRIAL TRANSFORMATION NEVER STOPS, this year successfully as a purely digital event. There could be no better motto to describe the dynamics at Kübler in recent months. For some time now, digital events or their own virtual events, such as the "Kübler Slip Rings or Elevator Days", have been a permanent part of the program. In the course of this, Kübler has developed a live consultation with multimedia glasses and established a Kübler Showroom and a Kübler Chat to offer customers added value digitally and to win new customers.
The Kübler Innovation Marathon -more than "just" new products
 Expansion of activities  
With the Kübler Innovation Marathon, the sensor specialist has been expanding its activities for a number of years to include other product and market segments. These include new functionally safe elevator positioning systems, new slip ring portfolios for Ethernet transmissions for mechanical engineering, smart magnetic encoder installation solutions for drive technology and for motor feedback, as well as a large number of partially functionally safe Ethernet encoders, the new I/O Link program and other innovations. The guiding principle is a high customer benefit for the respective application and to be "Industry 4.0 ready". The innovations are very often developed in close cooperation with customers.
Industry 4.0 ready – what does that mean ?
Kübler is focusing on new technologies on the sensor side and in signal processing, and on new digital functions to better support Industry 4.0 I IoT. Kübler's vision is to launch networked and intelligent encoders that perform classic encoder tasks such as measuring or transmitting "on the side". In the future, their real added value will come from generating additional data. Encoders are thus able to say "Who am I? Where am I? How well, how safely is my application running in which I am installed?". This in turn makes it possible to use encoders for new functionalities, e.g. for predictive maintenance in an entire installation environment of an encoder, for example on an axis. Customers then no longer need to elaborately integrate additional sensors, for example for temperature or vibration detection, the encoder takes over the overall task. Kübler has been working towards this goal for several years now, also with the involvement of research institutes and universities. The first impressive solutions have been developed in close cooperation with customers. Technology workshops designed by Kübler with key customers are often the key to success. There development engineers and application specialists from both companies take the future into their own hands together.
Services
Kübler also combines Industry 4.0 with new services around the product. Thus the portfolio is successively becoming "Industry 4.0 ready", in order to make it easy for customers to integrate it. One example is the introduction of eLabels, which are not only helpful for the digitalization of logistics processes, but also support asset management and predictive maintenance concepts.
New platform for Ethernet encoders 
A current spearhead of the innovation marathon is the expansion of the encoder portfolio with new smart functions. This includes a new high-performance Industrial Ethernet platform, various new products with IO-Link interfaces, as well as an extensive smart bearingless encoder family on a magnetic basis. These form a foundation for Industry 4.0 solutions.
The Black Forest company is particularly proud of the new Industrial Ethernet platform. They are equipped, for example, with an integrated web server and with an additional OPC UA interface. The new Profinet encoders are a first product on this platform. They can be used for significantly higher dynamic applications than usual Profinet encoders, as they have been developed according to the requirements of Enhanced Motion Control and thus fulfill Conformance Class C – Encoder Class 4. They are equipped with the latest encoder profile (V4.2.) as well as with the ProfiDrive protocol and thus support all Profinet features and the high real-time requirements of IRT with cycle times of 250 μs and clock-synchronous cycle times of a SendCycle up to 31.25 μs and a jitter < 1 μs. To support future-proofing – with short software lifecycles – an integrated web server is provided, allowing convenient firmware updates or uploading or enabling of additional functions in the field. (pay by use).
New IO-Link encoders for factory automation, on the other hand, are the answer when it comes to enabling basic Industry 4.0 functionalities at the lowest possible cost. In particular, the integrated "Smart Sensor Profile" simplifies installation, commissioning and provides extensive diagnostic options. The possibility for firmware updates in the field also makes the devices future-proof.
Smart bearingless encoder system for installation in motors or generators
The smart bearingless encoder systems address drive technology, motor feedback and large generators. Kübler sees itself in a pioneering role here, because the sensor specialists are driving the trend towards maximum sensor integration in drives quite significantly on the market! With success, because several "big players" have already switched to Kübler.
With minimal installation space and highly compact design, complex mounting solutions for encoders with bearings can be dispensed with. This not only saves space, but also system costs and increases system quality. The smart digital real-time signal processing enables extremely high signal quality. Sophisticated software tuning – a special know-how of the Kübler Group – makes it possible and allows active correction of drifts and signal errors or other influences due to temperature, aging or mounting tolerances. The integrated digital signal filter with delay compensation can generate further advantages in the application. Using the already existing knowledge of the core variables of an application system, as well as the optional integration of further sensors such as temperature or NEMS, condition monitoring or predictive maintenance can be enabled by means of "sensor fusion" methodology.
New Kübler Slip Rings – Digital enabler
As a manufacturer of sensor systems and slip rings, it is obvious for Kübler to generate special added value for customers by integrating both worlds. Slip rings are highly integrated components of sometimes complex machines. They provide reliable information about the machine condition and maintenance requirements. Kübler therefore sees slip rings as an ideal "Industry 4.0 enabler" and has integrated encoder systems in slip rings straight away for this purpose. This saves space and makes slip rings digital. The precise measurement and monitoring of axis movements, vibrations and temperature, coupled with the storage of lifetime histograms, provide all the necessary information for condition monitoring. The electronic nameplate facilitates asset management by providing error-free identification and the correct documentation. This ensures fast commissioning and high plant availability.