Sumitomo (SHI) Demag cares: Company child hospice donation
Schwaig, May 29, 2020 – Kinderhospiz Mitteldeutschland recently received a generous donation of Euro 2.500 from funds raised by Sumitomo (SHI) Demag employees to provide palliative care for seriously ill children and support for families.
Raising funds for local children's hospice facilities has been a long-held tradition at the injection moulding machine manufacturer. From Christmas 2019 until Eastern 2020, employees at the company's German site Wiehe donated generously to a fundraising campaign. On 28 May, the Works Council Chairman Mr. Danny Kunze, Mr. Frank Stengel who launched the donation tradition many years ago, and Managing Director Mr. Gerd Liebig handed over a donation cheque to Kinder- und Jugendhospiz Mitteldeutschland.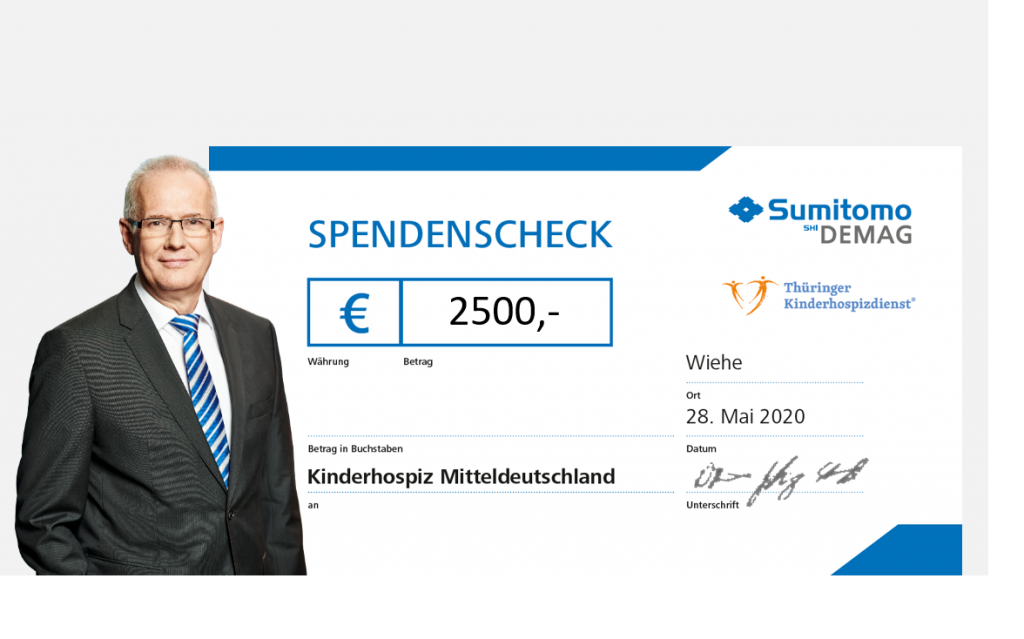 Praising the collective fundraising efforts of colleagues, Works Council Chairman Danny Kunze said: "This year, the commitment of our employees to the seriously ill children and their families was particularly impressive. Without donations and voluntary work, the work these facilities do would not be possible. That is why it is a matter of the heart for us to help."
Unfortunately, the costs incurred during a stay in a children's hospice and outpatient hospice care are not fully covered by health and nursing care insurance in Germany. With around 40,000 children at any time falling ill in a life-shortening way, providing psychosocial support, dignified palliative care and relief via children's hospices and outpatient support services is critical.
"It's one thing to talk about being socially responsible and showing how much we care. Taking action is another thing altogether. Despite working remotely during the current Covid-19 crisis, we are proud to see colleagues are continuing to share their time and making a difference in their local communities," adds Frank Stengel.
Sumitomo (SHI) Demag Plastics Machinery GmbH
Sumitomo (SHI) Demag has shaped the development of the plastics industry from its very beginning. As a specialist for injection moulding machines for plastics processing, Sumitomo (SHI) Demag and its Japanese parent company are leading the industry.
The global development and production network of Sumitomo Heavy Industries and Sumitomo (SHI) Demag is comprised of four facilities in Japan, Germany and China with more than 3,000 employees. The product portfolio includes all-electric, hydraulic and hybrid injection moulding machines with clamping forces of between 180 and 15.000 kN. With more than 145,000 installed machines, Sumitomo (SHI) Demag is present in important global markets and ranks among the largest manufacturers of injection moulding machines in the world.
At Sumitomo's headquarters in Chiba, Japan, the company manufactures machines with clamping forces in the small to medium range. Nearly 95 % of all delivered machines are equipped with an all-electric drive concept. Sumitomo (SHI) Demag's German facilities in Schwaig and Wiehe produce the Systec Servo range with hybrid drive as well as the El-Exis SP and Systec SP range of high-speed, high-performance machines. The all-electric IntElect range for international customers is also being produced in Germany.
As early as 1998, Sumitomo (SHI) Demag set up its first production site in Ningbo/China. In 2015, the Chinese subsidiary Demag Plastics Machinery (Ningbo) Co., Ltd. installed a new facility with a 13,000 m² floor space. It is earmarked for the production of the Systec C range with clamping forces of between 500 and 10,000 kN for the Asian market.
In addition to injection moulding machines, Sumitomo (SHI) Demag offers customised and standardised systems for the part handling automation, technical and process solutions for special applications, tailored services and service concepts as well as a range of financial options to support investment in injection moulding machines.
With its comprehensive sales and service network of subsidiaries and agencies, Sumitomo (SHI) Demag is present in all major markets.
Press release issued for Sumitomo (SHI) Demag Plastics Machinery GmbH by:Lucy Benbow, Sarah Willington