Sumitomo (SHI) Demag CEO sums up K-2019 highlights
Schwaig, October 30, 2019 – With Euro 25 million in sales confirmed over the eight day exhibition Sumitomo (SHI) Demag CEO Mr. Gerd Liebig hailed the show an unprecedented success.
At times, the Sumitomo (SHI) Demag stand in Hall 15 appeared to be at full capacity with visitors exploring the company's market-leading exhibits. Although the visitor numbers were down on the previous K hosted in 2016, the quality of customers visiting Sumitomo (SHI) Demag's stand was of a much higher quality. As Mr. Liebig noted: "We had some excellent customer meetings. In addition to the large number of new projects, we were also surprised to see that markets hit hard by the economic crisis, such as Germany, Spain and Italy, are now clearly signaling a revival with a significantly improved project situation."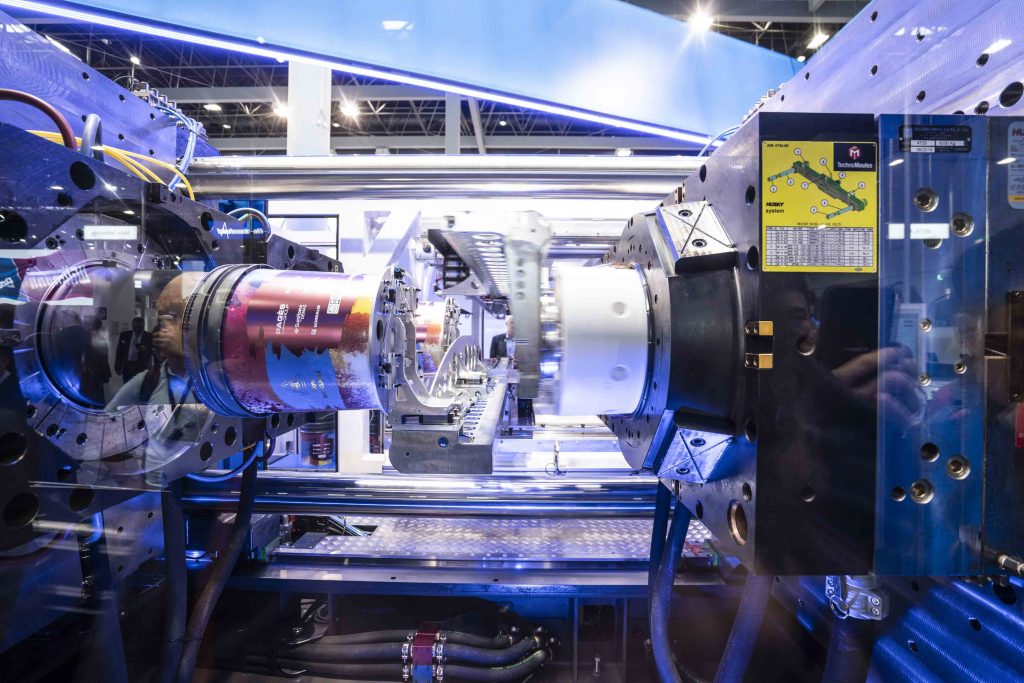 Mr. Liebig stressed, that the new El-Exis SP 1000 ton machine unveiled at the show demonstrates Sumitomo (SHI) Demag's continued investment in its product range. "We remain the number one supplier globally of packaging machinery, and our two exhibits at K once again fortified our strength in this market."
The company's clear precision and productivity strategy and investment across each industry sector also appealed to visitors, with the medical and automotive exhibits showcasing cutting edge processing technologies and collaborative partnerships with leaders in their respective fields. "The Nexus/LSR exhibit clearly positioned our automotive competence. Likewise, the medical showcase demonstrated how we can assist moulders to be GMP compliant and capture opportunities in mass-medical precision moulding," explains Mr. Liebig.
Despite the rising propensity to invest, the CEO maintains a cautious economic focus. Emphasising that he doesn't foresee an end to the crisis, Mr. Liebig says that Sumitomo (SHI) Demag will continue to increase production capacity and stabilise the company. This includes investing in R&D and production support, such as MyConnect, to assist customers with application optimisation.
Mr. Liebig also confirmed the company's intention to significantly expand its automation strategy.
"What our exhibits at K-2019 showcased is our focus on innovation. We are known the world over for being very strong in packaging. We'd like to bring the same clear focus and global recognition for our clean room medical machines and validation support, as well as our automotive sector offerings," adds Mr. Liebig.
With a strong executive team, all experts in their respective sectors, Mr. Liebig believes that the company is well-positioned to ensure its strategy stays aligned to market needs. Citing automotive as an example, he says that from customer meetings at the show it's evident that injection moulding in vehicle manufacturing is on the rise. The company plans new IntElect models targeted at the automotive and consumer markets for release in 2020.
Naturally, the circular economy was the dominant topic throughout K. Energy efficiency, processing recyclable materials and productivity are topics where Mr. Liebig feels Sumitomo (SHI) Demag can quantify the economic costs and make a difference. "This is where we continue to invest our know-how. The confidence that customers have in our machine range and development teams is our motivation to further elevate our level of innovation. Customers know that with Sumitomo (SHI) Demag they will get the fastest, most precise and energy efficient machine for their application."
Sumitomo (SHI) Demag Plastics Machinery GmbH
Sumitomo (SHI) Demag has shaped the development of the plastics industry from its very beginning. As a specialist for injection moulding machines for plastics processing, Sumitomo (SHI) Demag and its Japanese parent company are leading the industry.
The global development and production network of Sumitomo Heavy Industries and Sumitomo (SHI) Demag is comprised of four facilities in Japan, Germany and China with more than 3,000 employees. The product portfolio includes all-electric, hydraulic and hybrid injection moulding machines with clamping forces of between 180 and 15.000 kN. With more than 125,000 installed machines, Sumitomo (SHI) Demag is present in important global markets and ranks among the largest manufacturers of injection moulding machines in the world.
At Sumitomo's headquarters in Chiba, Japan, the company manufactures machines with clamping forces in the small to medium range. Nearly 95 % of all delivered machines are equipped with an all-electric drive concept. Sumitomo (SHI) Demag's German facilities in Schwaig and Wiehe produce the Systec Servo range with hybrid drive as well as the El-Exis SP and Systec SP range of high-speed, high-performance machines. The all-electric IntElect range for international customers is also being produced in Germany.
As early as 1998, Sumitomo (SHI) Demag set up its first production site in Ningbo/China. In 2015, the Chinese subsidiary Demag Plastics Machinery (Ningbo) Co., Ltd. installed a new facility with a 13,000 m² floor space. It is earmarked for the production of the Systec C range with clamping forces of between 500 and 10,000 kN for the Asian market.
In addition to injection moulding machines, Sumitomo (SHI) Demag offers customised and standardised systems for the part handling automation, technical and process solutions for special applications, tailored services and service concepts as well as a range of financial options to support investment in injection moulding machines.
With its comprehensive sales and service network of subsidiaries and agencies, Sumitomo (SHI) Demag is present in all major markets.
Press release issued for Sumitomo (SHI) Demag Plastics Machinery GmbH by:  Lucy Benbow, Sarah Willington