Sumitomo (SHI) Demag – Tactile trailblazing automotive mouldings coming to K-2019
Schwaig, July 1, 2019 – At K-2019, Sumitomo (SHI) Demag Plastics Machinery GmbH will unveil the future of minimalist modern car dashboards, making driving more comfortable for millions of motorists.
As a result of developments in autonomous driving, connectivity and electro mobility (e-mobility), car interiors are changing fast. According to the latest research, the global automotive interiors market is anticipated to reach USD29.35bn by 2025.[i]
Bulky dashboards are being replaced by more aesthetically-pleasing minimalist surfaces. Customisable controls are boosting comfort. Interior lighting, acoustic systems and sound insulation are being integrated into car surfaces. Moulding these high-tech interior components requires greater precision and process stability.
"Featuring fewer switches, these tactile panels create a more sensory experience for motorists. In the future, applications like this will reduce the number of components in a vehicle," notes Henrik Langwald, Business Development Director Automotive at Sumitomo (SHI) Demag.
At K-2019, Sumitomo (SHI) Demag will demonstrate its largest In Mould Decorating (IMD) display to-date. The trailblazing, as-yet unseen, IMD touchfoil interactive decoration for a vehicle console will be produced on a brand new IntElect 500 being unveiled at the show.
Dynamic, precise and energy saving, the new IntElect series, now ranging up to 500 tonnes, features the company's latest innovation in servo drives, enabling improved repeatability and shorter cycle times. The big tie bar spacing, increase in mould height and opening stroke means that the new IntElect models can accommodate larger moulds. The result is a less energy intensive machine for automotive applications that would previously have required a larger tonnage.
Langwald adds:  "As society moves towards more integrated touchscreen electronic components in vehicle interiors, injection moulding machines need to adapt. All of the technological enhancements in the IntElect 500 are designed to give moulders the tools, machine synchronisation, mould safety and real-time production monitoring required for tomorrow's automotive smart factories."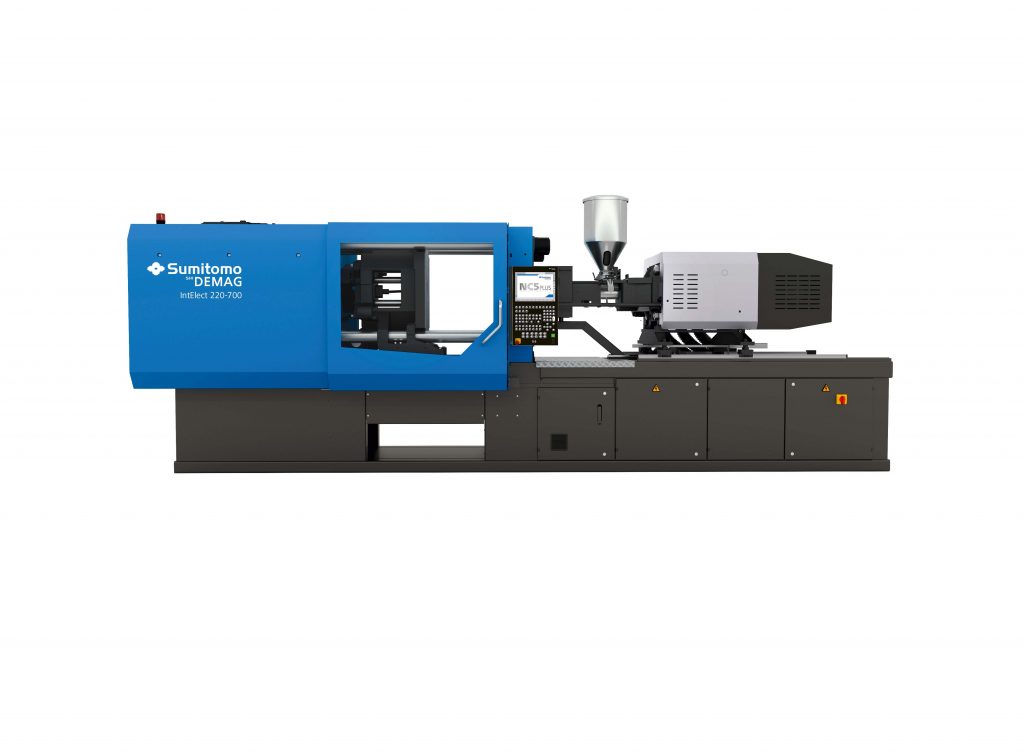 The IntElect 500 is designed to achieve extremely precise shot control, combined with improved platen stiffness for better production safety.
The IntElect's optimised clamp force is a result of an innovative double centre press platen. Designed in-house by Sumitomo (SHI) Demag, it ensures equal surface pressure distribution. In addition to the high precision of the drive system, features like activeLock (an active closing non return valve) or activeFlowBalance (ensuring even filling of multi cavity moulds) can be used to achieve higher repeatability and precision.
Sumitomo (SHI) Demag Plastics Machinery GmbH
Sumitomo (SHI) Demag has shaped the development of the plastics industry from its very beginning. As a specialist for injection moulding machines for plastics processing, Sumitomo (SHI) Demag and its Japanese parent company are leading the industry.
The global development and production network of Sumitomo Heavy Industries and Sumitomo (SHI) Demag is comprised of four facilities in Japan, Germany and China with more than 3,000 employees. The product portfolio includes all-electric, hydraulic and hybrid injection moulding machines with clamping forces of between 180 and 15.000 kN. With more than 125,000 installed machines, Sumitomo (SHI) Demag is present in important global markets and ranks among the largest manufacturers of injection moulding machines in the world.
At Sumitomo's headquarters in Chiba, Japan, the company manufactures machines with clamping forces in the small to medium range. Nearly 95 % of all delivered machines are equipped with an all-electric drive concept. Sumitomo (SHI) Demag's German facilities in Schwaig and Wiehe produce the Systec Servo range with hybrid drive as well as the El-Exis SP and Systec SP range of high-speed, high-performance machines. The all-electric IntElect range for international customers is also being produced in Germany.
As early as 1998, Sumitomo (SHI) Demag set up its first production site in Ningbo/China. In 2015, the Chinese subsidiary Demag Plastics Machinery (Ningbo) Co., Ltd. installed a new facility with a 13,000 m² floor space. It is earmarked for the production of the Systec C range with clamping forces of between 500 and 10,000 kN for the Asian market.
In addition to injection moulding machines, Sumitomo (SHI) Demag offers customised and standardised systems for the part handling automation, technical and process solutions for special applications, tailored services and service concepts as well as a range of financial options to support investment in injection moulding machines.
With its comprehensive sales and service network of subsidiaries and agencies, Sumitomo (SHI) Demag is present in all major markets.
https://www.alliedmarketresearch.com/automotive-interiors-market
Press release issued for Sumitomo (SHI) Demag Plastics Machinery GmbH by: Lucy Benbow , Sarah Willington