"Switching to AM components has brought cost advantages in every single case."
With its innovative, energy-efficient sand blasting system, BMF GmbH – Bernstein Mechanische Fertigung from Grüna has not only won innovation awards at state and federal level since its foundation in 2007, but has also convinced many customers. In an interview, Managing Director Ronny Bernstein explains the increasingly networked after-treatment technology, BMF's dual role in additive manufacturing and its claim to be a problem solver.
Can you briefly introduce your BMF GmbH to us?
Ronny Bernstein: We started as a parts manufacturer in 2007 and invested over one million euros in machinery right from the start. Soon afterwards we started to develop our own products and machines, which were very well received by the market. Today we have over 20 employees – including four master craftsmen and four engineers – and work with many OEMs. Our main focus is on smaller series and prototypes made of rather rarely used materials. We see ourselves as problem solvers. This claim is also the origin of our machine developments in the field of surface finishing.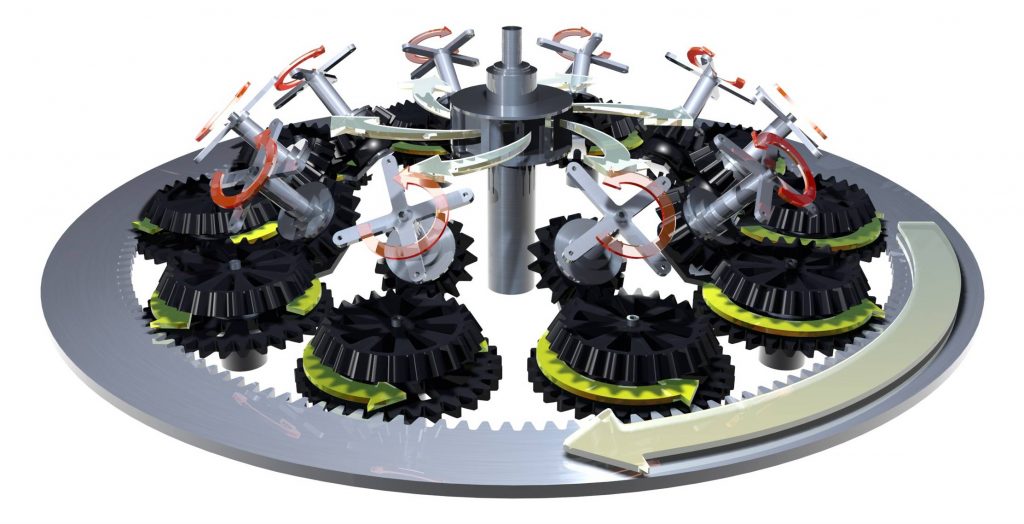 How is your company involved in additive value chains?
Bernstein: On the one hand, through our sand blasting systems, which can hold up to 100 parts simultaneously and ensure uniform surface quality even with complex geometries. For the blasting process, the components are mounted on a quick-change system and then move on a conical orbit around a rotating blast wheel. A superposition of rotary and swivel movements ensures that the workpieces are blasted uniformly from all sides. They are virtually guided through a cloud of abrasive. The process is fully automated. The quality is no longer dependent on the qualification or daily form of the operator. Up to now, the high-tech printing processes have been followed by reworking using 150-year-old technology. It is not uncommon for the component quality to suffer in the process. A further advantage of our sand blasting is the up to 90 percent lower energy requirement compared to conventional compressed air blasting technology. We have received various awards for this, including the Saxon State Prize for Innovation and the Federal Prize for outstanding innovative achievements for the craftsmanship.
You started with on the one hand – what is the other?
Bernstein: On the other hand, we are users of additive processes with which we print components and spare parts. We still produce plastic parts with FDM printers. The material is wear-resistant and unbreakable even under extreme stress and is therefore suitable for the blasting area. Through AM-compatible design and the use of plastic instead of milled metal parts, we often achieve a weight reduction of more than 50 percent. The parts are also available within hours or days. We are currently investing in a metal system to increase the proportion of AM production. This enables us to produce just-in-time, saving on machining and storage space. It works so well that we have installed an AM system at a customer in India, who now prints their spare and wear parts on it. We send them the files and they pay per printout. This speeds up our service and removes complexity from the supply chain. In addition, the customer, who is active in the automotive sector, can now change their product range very quickly and flexibly. In this case they send data of the new parts and we immediately develop suitable workpiece holders for them.
How far does the networking of your additive processes go?
Bernstein: Since our patented sand blasting process guides AM components on a defined path through the cloud of abrasive, not only is every point on the surface reached. The quality can be planned independently of the complexity of the components. In order to measure and document them precisely, we cooperate with the measuring technology specialist Hexagon. This networking of blasting and measuring technology is required to produce functional surfaces in medical technology and aviation in a reproducible manner. However, it is effective for all customers, even if they cannot or do not want to invest in a measuring machine. Because in the fully monitored process we collect data with which we can control the blasting processes more precisely. This allows us to predict which process parameters lead to which surface qualities. Thanks to this "Smart Surface Control", users can print faster and coarser with less stringent surface quality requirements because they know in advance that the blasting process will achieve the required quality. This increases productivity in the overall process. Networking and automation is important because there are hardly any qualified employees left who will spend the whole day in a blasting plant.
Do your plants blast metal or plastic components?
Bernstein: Both can be done in one and the same machine. We supply them with a tablet that allows customers to view instructions and data sheets, access remote maintenance and soon have access to a database of parameters for "Smart Surface Control". Using a surface calculator, they can determine settings for the defined blasting process for various materials – and preset the desired quality. Pilot customers thus already achieve one hundred percent reproducible quality today.
This is clearly in the direction of 4.0 What potential in mechanical engineering do you believe AM has in view of its activities?
Bernstein: The potential is very big, even if the hype is currently subsiding somewhat. I think that a similar transformation lies ahead as the transition from combustion to electric drive in the automotive sector. Wherever it is possible to optimize the function and time-to-market of components by means of additive processes in such a way that it is also economically viable, additive manufacturing will prevail. In every single case, the changeover from classic turned, milled or bent sheet metal parts to AM components has brought cost advantages, improved functions and straightened out process chains. As an industry, we would be well advised to align the training sector with the upcoming transformation and to take the trainers in vocational schools along with them.
How do you envisage typical AM process chains in 2030?
Bernstein: In addition to traditional manufacturing service providers, machine and plant manufacturers will increasingly do additive manufacturing in-house. This is also interesting for machine builders, who until now have bought in many parts and assembled them in-house. This is because they can greatly accelerate their development speed and simplify their supply chains. The production technology is manageable. AM processes are maturing, becoming increasingly automated – and they ensure that design and production work hand in hand. This is the ideal ground for innovation and optimization.
With what goals did you join the working group Additive Manufacturing in the VDMA?
Bernstein: We want to make a difference and present our problem-solving approaches for post-treatment. They should not be seen as a "post-process" in isolation, but should address the manifold interactions with the preceding process steps. This is what we do – and we are looking for partners from all areas of the AM process chain. The AG is all about the matter at hand. We speak at eye level with many actors – and nobody has the feeling that the others are trying to sell him something. We participate, learn and expand our network. And together, we bring Additive Manufacturing forward step by step. You can't do that without such networks.
About 150 companies and research institutes collaborate under the roof of the VDMA (German Mechanical Engineering Industry Association) in the Additive Manufacturing Association. System manufacturers, suppliers of components and materials, industrial users from the metals and plastics sectors, services providers for software, manufacturing, and finishing as well as researchers all have a common goal: the industrialization of additive manufacturing technologies.