Topping out ceremony at Baumüller Dravinja
Baumüller Dravinja expands its plant and commissions a new painting system
Baumüller Dravinja d.o.o., the Slovenian subsidiary of the German manufacturer of drive and automation systems, Baumüller, hosted a topping out ceremony for the construction of a new production hall in Slovenske Konjice in May 2019. The Baumüller Group has placed the largest individual investment in this location to expand the Slovenian site, which is located approx. 30 km southwest of Maribor. The construction phase, lasting roughly 1 year, should be completed by early 2020. The expansion will result in approx. 1,300 m² of additional production space and upon completion will contain a new state-of-the-art painting system. The production space will thus increase to over 10,000 m².
Helmut Hauf, executive manager at Baumüller Dravinja, is pleased that, following the expansion, it will be possible to handle the growing number of customer inquiries better and more quickly, allowing the company to continue growing successfully as a result. Alongside the management  of Baumüller Dravinja, the attendees of the festivities included, managing partner of Baumüller Group ,Andreas Baumüller, and CEO, Herbert Hesslinger, from the main office in Nuremberg, as well as the Slovenian Minister of Economic Development and Technology, Zdravko Počivalšek, the President of the German-Slovenian Chamber of Commerce, Gertrud Rantzen, and the Mayor of Slovenske Konjice, Darko Ratajc.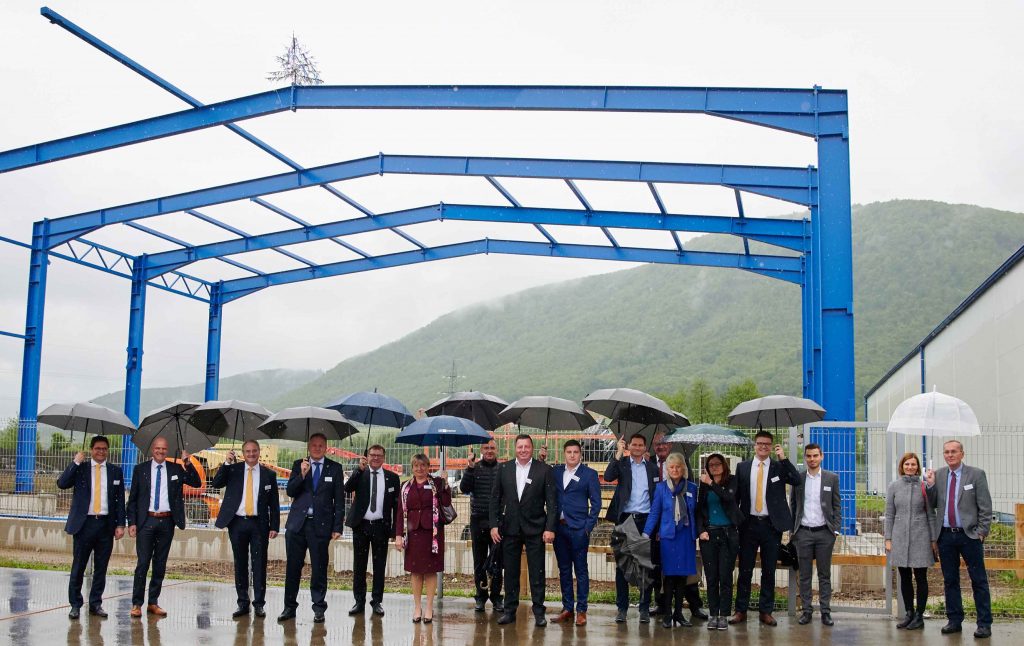 Baumüller Dravinja d.o.o. hosted a topping out ceremony for the construction of a new production hall in Slovenske Konjice in May 2019
From sheet metal parts to fully wired control cabinets
In addition to steel sheet solutions, stainless steel and aluminum solutions are also produced at the Konjice production site in Slovenia. The products made from steel sheeting, mainly consisting of control cabinets, housings or machine casings, are powder-coated and used on machines or systems
in industrial manufacturing, for instance. From the design of the component all the way to production, the experts at Baumüller Dravinja cover the entire range of services for demanding custom-made items right up to high-volume products.
In this process, we meet industry-specific requirements. For instance, some industries, such as manufacturers of medical technology or the food industry, have very strict hygiene or storage life requirements for materials and processing. For this purpose, Baumüller Dravinja has been including
the respective control cabinets and housing solutions made from stainless steel and aluminum in its product portfolio for ten years now.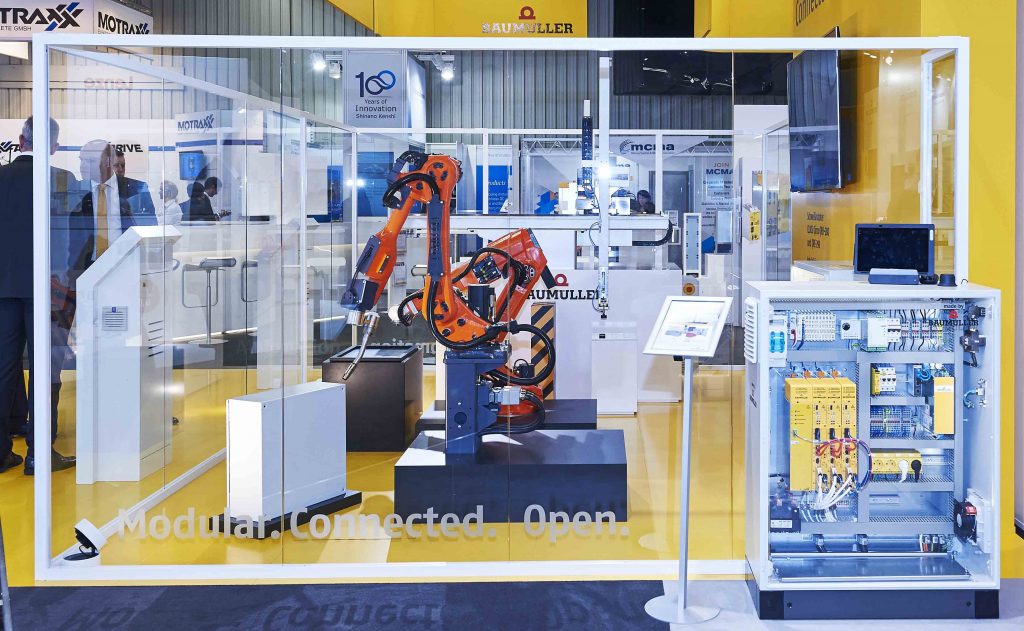 Baumüller Dravinja has been producing fully wired control cabinets among other products forprominent German machine and system manufacturers for many years
Intelligent painting system organizes orders
The new painting system is complaint with corrosion protection class C5, meaning it can be used for the coating of offshore components. Furthermore, larger components than previously, weighing up to 700 kg can now be processed. Capacity will also be expanded, so that upon completion two modern painting booths will be available.
The technical innovations will be complemented by an intelligent integrated production planning system. Using scheduling and sequence restrictions, the system pools orders and determines the optimum utilization. Additional points in favor of the system to consider are: energy efficiency, noise
protection and maintenance of good air quality.
"The new painting system is one of the most modern of its kind regarding automation and digitalization. With it, we are expanding our competitive advantage for our customers and ourselves and will thus be right at the front of the pack when it comes to Industry 4.0″, says Jožef Klajnšek,
executive manager at Baumüller Dravinja.
One of the most important employers in the country
Baumüller Dravinja d.o.o.
Baumüller Dravinja d.o.o., based in Slovenske Konjice, approx. 30 km northeast of Maribor, was founded in 1958. The Baumüller subsidiary started as a state holding company of the IMP. More than three decades later, Baumüller began a joint venture with the company, now operating under the
name ABD Dravinja. Dravinja has been a full subsidiary of the Baumüller Group since 1995. Since 1992, the number of employees has grown from 32 to 300 as of the present day. At the same time, production area has increased from 3,600 square meters in 1992 to over 10,000 square meters today
Baumüller Dravinja delivers to countries in the European Union, Switzerland and to international customers. The geographical location of Slovenia and a well-connected transport network is beneficialfor this.
By now, Baumüller Dravinja has become not only one of the largest but also one of the fastest-growingcompanies in Slovenia. Baumüller has now become one of the most important employers in the country and will continue to expand this position successfully in cooperation with its customers.
Press release from Baumüller