Improved time-to-market for smart automation
Baumüller Austria presents intelligent drive and automation solutions at Smart Automation 2019 in Linz, Austria
Automation expert Baumüller will be exhibiting at Smart Automation 2019 in Linz from May 14 to 16, 2019 in hall DC at stand 140. Trade visitors will experience the added value of future-oriented drive and automatization with numerous innovations for smart production – from water-cooled servomotors to the ProSimulation simulation tool. The same nominal power despite different sizes: Water-cooled servomotors have up to twice as much nominal power as an uncooled motor of the same series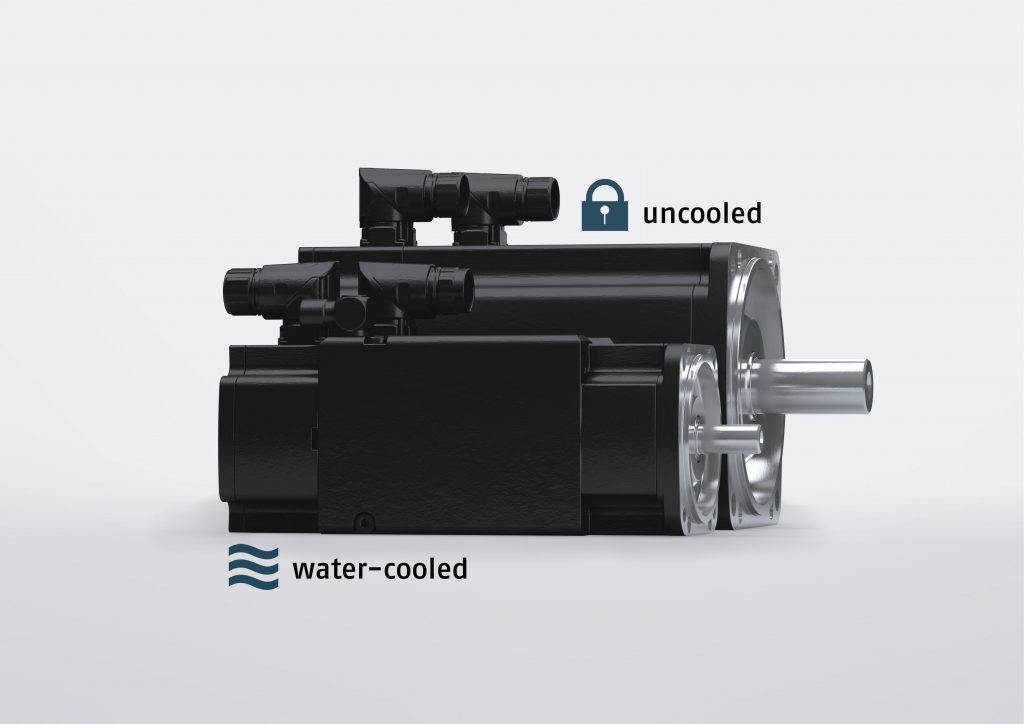 The same nominal power despite different sizes: Water-cooled servomotors have up to twice as much nominal power as an uncooled motor of the same series
The DST2 series of high-torque engines will be presented in the engine portfolio with extensions in terms of power and speed. With one of the broadest offerings of motors on the market, in addition to different high-torque motors, Baumüller also offers efficient and scalable servomotors as well as main drives in numerous versions and sizes.
With its converters, Baumüller provides its customers with important advantages:  from cost savings and higher dynamics to increased safety. The converter series of the b maXX family together cover a wide power range from 1 to 315 kW. The b maXX 5000 family comprises both stackable devices and powerful mono units. With optional safety packs, all devices in this series can be easily adapted to meet your individual safety needs. The b maXX 5000 and b maXX 3000 converters will be on display at Smart Automation in Linz.
Product Highlights
Baumüller's servo motor portfolio has been expanded to include the water-cooled model sizes 45 and 56. The housing is identical in design to an uncooled version and thus combines the advantage of maximal cooling with minimum dimensions. Another advantage of the heat dissipation via the cooling medium water is the space-saving design. This means that the motors can be placed next to each other without heating each other, even in tight spaces. Ideal, for example, for textile machines, plastic machines as well as forming and bending machines.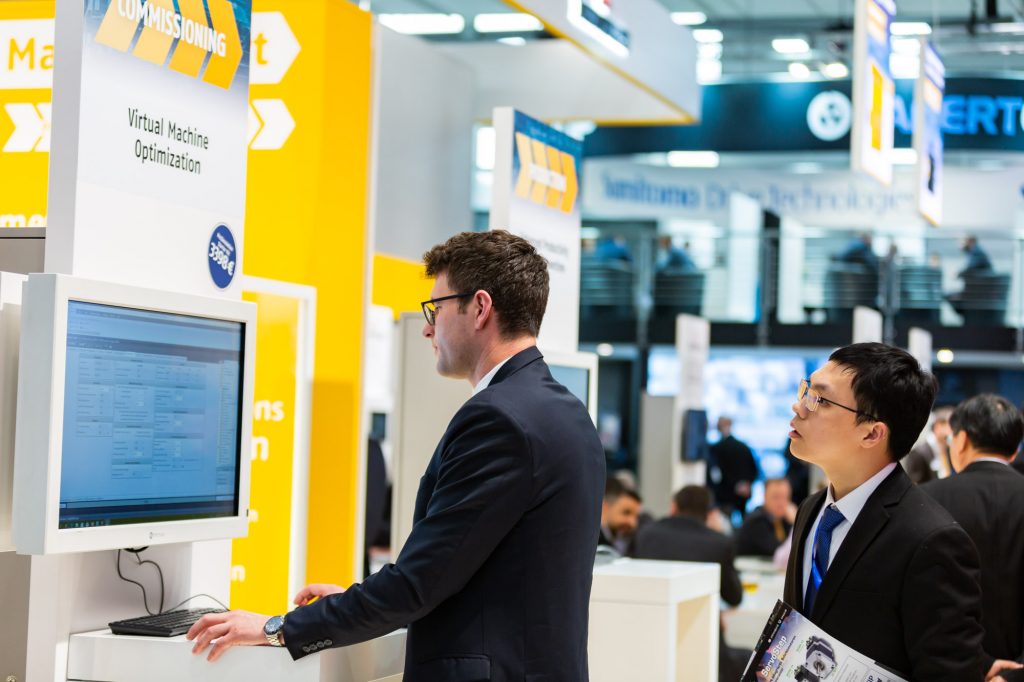 Experience ProSimulation live. Our expert Michael Stiegler explains the advantages of the new simulation software to customers using example simulations
Speed is crucial – with the new simulation tool ProSimulation from Baumüller, customers are once again shortening their development and commissioning time of machines and systems significantly. The tool can be used to design and test optimum automation and drive components for machines. All parameters can easily be virtually simulated from your desk even without detailed simulation knowledge. ProSimulation also extends the range of functions of the ProDrive commissioning software, which allows for the simple and fast commissioning, parameterization and operation of all b maXX controllers.
The new tool can be used by a variety of industries and types of machines, both for standard systems as well as for special systems. Manufacturers of servo presses, rolling mills, filling plants or robots, for example, are already saving time and money today with the new simulation software. Because using ProSimulation leads to optimization to the complete replacement of a prototype. The financial expense and time required for development and commissioning are thus significantly reduced.
Life cycle management worldwide
In addition to the development and manufacture of automation components, Baumüller as a group of companies covers numerous services for machine and plant construction as well as for machine operators. From project planning and design through installation and commissioning to maintenance, retrofitting and relocation, Baumüller offers support throughout the entire life cycle of machines and systems. With over 40 branches worldwide, Baumüller is a globally reliable service partner with decades of local worldwide experience.
Press release of the Baumüller Group